Lakme Fashion Week 2010 Day 5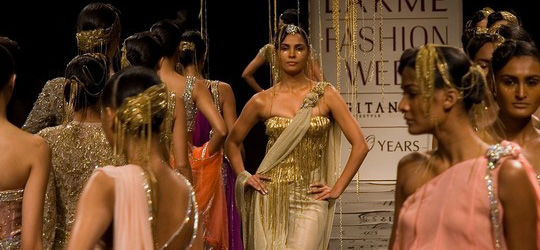 LFW's Resort/Summer 2010's last day got off to a great start!!
Eina Ahluwalia
The ACCESSORY DESIGNER SHOW began with Eina Ahluwalia 's "Breathing Space" and was divided into two sections. The "Truth" offered the most exquisite agate and fretwork in silver combined with semi precious stones while "Sunset in Nice" integrated brightly colored ombre'd scarves as the basic element with silver elements bringing together fabric with metal to give a new perspective to necklaces.
Sonali Dalwani
Sonali Dalwani of Crimzon was inspired by the Papillion (butterfly) for her collection of jewelry, shoes, bags and belts with the butterfly motifs flying on the bags and necklaces. The color range included green, purple, blue, red, orange and yellow
Suhani Pittie's
Suhani Pittie's "The Grunge Begum" collection was 'spot-on' sophisticated and chic. It ranged from Hyderabadi Jhumkas, kasulaperu old coins, Nawabi insets and carved wood blocks on copper, silver and dull gold metal to chains, zipper fabric and vintage motifs for the fabulous necklaces, cuffs, earrings and revived the anklets.? While totally Indian in its references ?and elements- it would be equally at home every fashionable city around The world.
Debarun Mukherjee
Debarun Mukherjee proved that a designer can be inspired by anything even if it is a mere Indian snack. His "Miracle Mix", inspired by the tasty chanachur or Bombay Mix, a Kolkata snack was a creative blend of the rustic with a contemporary. delightful mélange of silhouettes. With a title like 'Is This Love', Nidhi and Divya Gambhir for their Walnut label collection had elegant mini cocktail dresses in simple silhouettes with maximum structuring. The hand painted organzas in shades of black and white with subtle tones of purple, teal, grey and crème made the dresses ready for Christies auction block.
Rimi Nayak
Rimi Nayak's Azure Amour was a Fatal Attraction look inspired by the sea farer's uniforms. Structured silhouettes, some with drapes were deconstructed, and included an emphasis on nautical motifs and blue and white stripes.
Lina Tipnis
Lina Tipnis's collection "Istanbul Not Constantinople" included cocktail dresses which varied in shape from trapeze to tent, sheath to shirt and stylish caftan to Turkish trousers. The magnificent gems at the Topkapi Palace, swirling Turkish dervishes, beautiful blue Iznik tiles and the 14th century Grand Bazaar of the magical city of Istanbul came alive in Lina's collection.
Payal Singhal
Payal Singhal's line of casual and formal separates included maxis, draped cowled skirts and ornate tank tops. Keeping to a neutral colour palette of ecru and sand, Payal used dramatic crystal embellishments for added glamour.
Anthony Mascolo
A special highlight of the week was the much anticipated show featuring TIGI's International Creative Director and hair stylist, Anthony Mascolo and hot London designer Christopher Kane…both on the runway and in India for the first time. Presented by 'Lakmé Studio '. Anthony Mascolo's amazing "CATWALK" hairstyling kept the audience applauding' while Christopher Kane's swirling pleated chiffon dresses, expert beadwork, and soft delicate pastel tablecloth checks made this show a special treat for us all- including front row guest Frieda Pinto.
Anita Dongre
Anita Dongre's "Jaipur Again"  featured predominantly all white garments that still reflected all the beauty of Rajasthan architecture. Kurtas swirled with gota embroidery, jackets added elegance and class, and the cholis appeared in all their traditional glory.
Lakme Night Fever
And finally the Grand Finale….The Ballroom of the Grand Hyatt Hotel was draped with metres of fabrics cascading down from the ceiling in lush panels. Three giant silver disco globes rotated from the ceiling throwing twinkling stars on the already intricated mirrored runway.. A Mykonos windmill gently rotated to the left of the stage while a silver balcony on the right of the stage hosted Medieval Punditz Shai'r and Func spinning the most exciting disco and dance beat music for the show. Lakmé Fashion Week Summer/Resort 2010 featured Suneet Varma's Night Fever extravaganza… inspired by LAKMÉ'S NIGHT FEVER Summer 2010 collection. The five segments included:Color My World, Call of the Wild pucci Prints, Preppy Argyle. and last, but definitely not least was- The Bold and the Beautiful.
This festive, colorful, entertaining show ended with the three beautiful Faces of Lakme dancing with Suneet to the Bee Gees catchy "Night Fever" in a swirl of silver mylar confetti that engulfed the venue…..and then we all dnaced on to the glorious after-party at China House.
This wrapped up the first ever "Summer/Resort " collections on a high note…which is exactly how it should conclude! Congratulations to all the designers for a great week, and to all the models, choreographers, producers, staff, volunteers and all who took part in making this one of the best Lakme Fashion Weeks ever!
Lakme Fashion Week 2010 Day 5 Photos