Hindi Movie Review – Click (2010)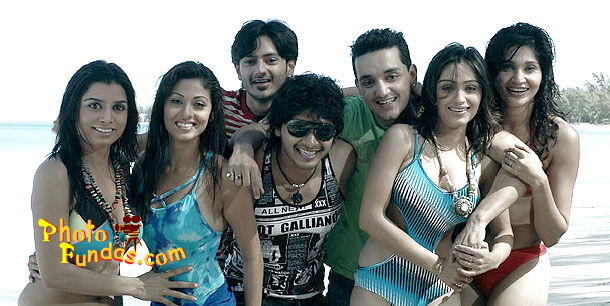 Click – Horror Film
When you speak about 'Horror' films, it's all about a ghostly figure with long hairs and gaudy white sari. They're just unavoidable and tend to be strict factors of prototyped horrendous movies. 'Click' isn't an elision as it involves such attributes and indeed astonishes at certain points.
Shutter Replication
'CLICK' is an exact replication of Thai film 'Shutter' that was later remade in Hollywood with the same title. On the face of it, our South Indian filmmakers refashioned it in Tamil and Telugu, which weren't so fascinating (Tamil remake was titled as 'Sivi') as western variants. Incisively, 'Click' isn't rather impressive just like the other desi versions.
Though, the film has perfect screenplay, it drops us down with uninterestingly scary moments. What's the reason? Obviously, the Thai film was made nearly 6 years back and the same old narration doesn't suit for the contemporaneous audiences.
Click Movie
Avi (Shreyas Talpade), a top-of-town fashion photographer with a lavish lifestyle. With his girlfriend Sonia (Sadha) showering abundant love, he has no worries until one night they hit a girl while driving back from a party. Regrettably, the two take off from the spot without an idea about helping her.
Now as Avi starts witnessing a strange ghostly image in all his photographs, Sonia makes sure that it's none other than the girl they bashed on that night. But then, Avi is still stubbornly resistant towards such mishaps. But his life turns upside down when three of his close friends are cryptically killed.
Unbearable to this situation, Sonia takes up the task of unraveling the mysterious scenarios. But when the truth is revealed, it's really hard to accept as it exposes the hidden past of her beloved one.
Sangeeth Sivan doesn't drag you for a longer duration as the film is merely about couple of hours with a nitty-gritty screenplay. There are some scary moments this film that would cause an adrenaline rush, if you haven't watched the other versions. Sangeeth Sivan has well utilized the potentials of T Ramji's cinematography and Sandeep Chowta's background score. Of course, the elements required for a perfect horror film has been spelled prodigiously.
When it comes to narration, the first half deliberately fantastic with 'thrill shots', but as it goes forward to the latter half, it's quite tedious and later travels on right momentum with the proceeding of flashback.
An unusual show by Shreyas Talpade as the actor completely makes us forget about his previous comedy entertainers. Be the moments where he's spotted as a cool-guy or as a completely skittish incapacitated during penultimate sequences: he's awesome. Sadha hasn't got more dialogues to render, but captivates with her reactions and facial expressions. Chunky Pandey as a nutcase writer offers some delighting moments while Manu Sharma is more noticeable while Rehan Khan with his smaller footage does well.
Sangeeth Sivan could've assigned Sandeep Chowta himself to score music as Shamir stumbles on every number. Nonetheless, Sandeep could've yet more delivered a powerful background score that would've doubtlessly added-up more to the horripilations.
On Whole
On whole, 'Click' offers a good entertainment, especially for horror buffs if they haven't watched 'Shutter'. But, it's worth mentioning that a horror lover wouldn't have missed checking it. Anyways, 'Click' can be watched once as it proves to be a passable show.
Production
Sangeeth Sivan
Sanjay Ahluwalia
Vinay Chowksey
Direction
Sangeeth Sivan
Star Casts
Shreyas Talpade
Sadaa
Sneha Ullal
Rehan Sharma
Chunky Pandey
Music
Shamir Tandon
Background Music
Sandeep Chowta