Angela Lindvall American Beauty by Tom Craig for Vogue UK June 2010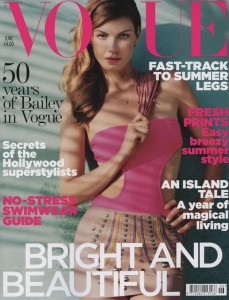 Vogue UK June 2010 cover has been decorated by 31 year old American model Angela Lindvall. Photographer Tom Craig takes a trip to Cuba for this cover shoot and styled by Bay Garnett. The American beauty takes on garments from Chloe, Louis Vuitton and Stella McCartney in Viva Cuba.
She is keeping up with the theme of summer getaways, cooling waves and sunny beaches by wearing strapless swimsuit by Liza Bruce, elegant embroidered leather miniskirt by Versace, fabulous cashmere stole by Louis Vuitton and gold-plated pendant necklace, Laura Lee Jewellery.