Social For The iPad Apps Review
Facebook is one addictive social network to be a part of. It's fun communicating with people on Twitter and other sites, but when you bring your friends, their images, videos, and other content to the mix, you've got one killer network on your hands. Plenty of people spend hours of their time connecting with others on Facebook. Thanks to Social for the iPad, Facebook fans get to do it on their iPads too.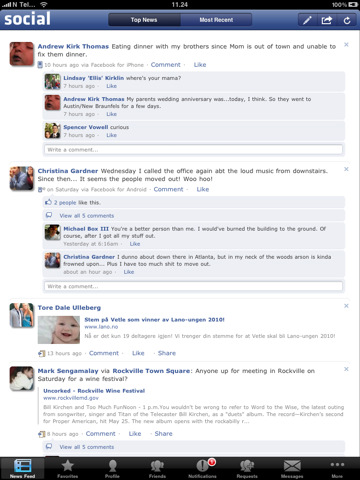 Social for the iPad is designed for those of you who have come to love the Facebook experience. It makes it so easy to get a full view of what your friends are doing on that site. The app is designed to take full advantage of iPad's full-screen. You can use it to add friends, join groups, post new messages, send private messages, and do everything else you used to do on Facebook using a regular computer.
Social for the iPad looks awfully close to the real "Facebook experience." You won't have to master yet another interface to use your iPad for Facebook. I like the fact that the developers behind this app do fix bugs as soon as they find them (something not every developer pays attention to).
If you are looking for a decent app that lets you communicate with your friends and colleagues on Facebook, Social for the iPad is a solid app you should try. It's well-designed and does what it promises.