Apple iOS 4.3 Multi Touch Gestures Demo On Video
Multitouch gestures have been spotted in the iOS 4.3 Beta 1 release, with BGR's sources sending in evidence of internal settings pages that suggest the iPhone will also get the gesture support, not just the iPad. Meanwhile Antoni Nygaard has managed to get the functionality working on his iPhone 3GS, and caught the whole thing on video.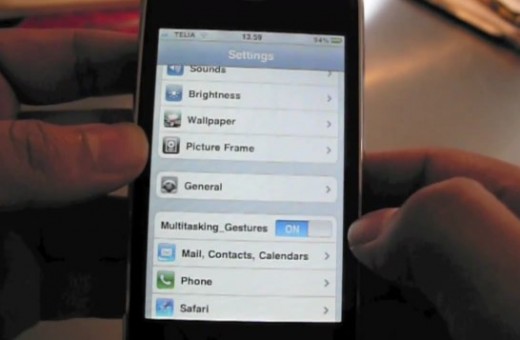 As you might expect, the same gestures that would work well on the 9.7-inch display of an iPad are a little more cumbersome on a 3.5-inch smartphone. Count on completely covering the display while you swipe with four fingers, for instance.
Nygaard also demonstrates the changeable rotation lock/mute switch setting, which upset iPad owners when it was removed in iOS 4.2. Previous rumors suggested that Apple would ditch the physical home button on the iPad and iPhone and instead use gestures for controlling home and app switcher functionality; it certainly seems that's possible, though whether it's especially elegant on the iPhone is a matter of opinion.
Multi Touch Gestures in iOS 4.3 Demoed on iPhone – Video
[media id=18 width=540 height=390]