Indian Henna Designs for Hands Unforgettable Showcase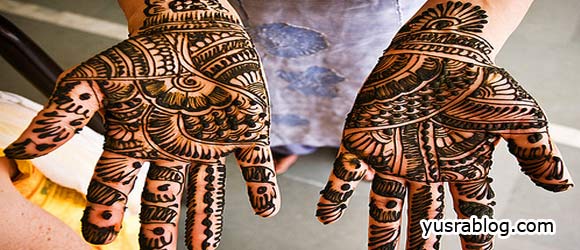 Wedding is an elaborate affair in India, Pakistan and Bangladesh, comprising of a large number of customs and traditions. One of the important rituals, especially in context of the bride, comprises of 'Mehndi' (commonly known as henna).
As a part of this ritual, the powder of Henna leaves is mixed with water (and many-a-times, oil and lemon juice as well), to form a paste. This paste is then applied on the hands as well as the feet of the bride, in the form of intricate patterns. The henna is removed only after the design dries off completely. However, the bride cannot wash her hands and feet with water, for the next 12 hours at least, to make sure that the color comes out to be dark and rich.
In context of an Indian and Pakistani bride, mehndi is believed to signify the strength of her marriage as well as the amount of love that she will receive in her husband's house. In fact, it is said that the darker the color of the mehendi (on the hands and the feet of a bride), the stronger will be the marriage and longer it will last.
At the same time, the dark color of henna is also said to mean that the bride will receive a lot of love from her husband as well as her in-laws. This is the reason why, after the application of Bridal Mehndi Designs, the bride undertakes a lot of efforts, like applying oil or heat, to ensure that the color is dark. The application of mehndi, on the bride's hands and feet, is also considered to be auspicious.
With the changing times, the type as well as style of bridal mehndi has also undergone a vast change. Rather than the traditional mehndi (made from henna leaves), brides have started opting for tattoo mehendi, chemical mehendi, stone mehendi and even sparkle mehendi.
In these types of mehndi, altogether different designs are used and accessories like tattoos, sparkles and stones are added to make eye-catching patterns. Some other henna concepts that one can find in the present times include zardozi mehndi, nail paint mehndi and poster color mehndi.