Maddie Welch for Style June 2010 by Wee Khim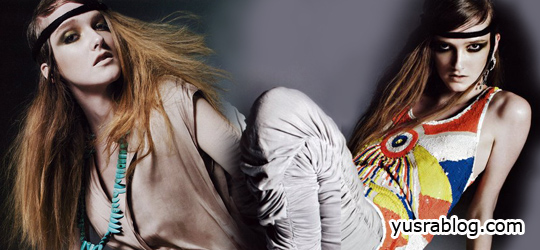 {YBA} Clap your hands, Say Yeah. Who said tribal culture's only for those still living in the village? Look out for rustic intricacies, clashing DayGlo hues and kaleidescopic prints. Will someone just pass the daisy? (Style June 2010)
Specimen Management's Maddie Welch goes back to the 1970s with a mix of floral and psychedelic prints for the June issue of Style Magazine Editorial & Cover.
Captured by Wee Khim with styling by Sharon Tulasidas, the studio spread features designs from the likes of Louis Vuitton, Miu Miu and Balenciaga.
Colorful dresses are looking good and Maddie Welch is looking gorgeous and stylish by wearing this 1970's fashion. I am just re-calling, "Old is Gold".
Model: Maddie Welch
Magazine: Style June 2010
Photographer: Wee Khim
Styled: Sharon Tulasidas