Complement Your Saree with Divine Hairstyles
A saree can transform your look and make your friends jealous of your outfit. It can help you express your personality to others. A lot of western women appreciate the value of the saree and have a collection of sarees for different settings. Online shops such as Stylecaret have all kinds of sarees to help you mark special occasions and also wear some on a daily basis.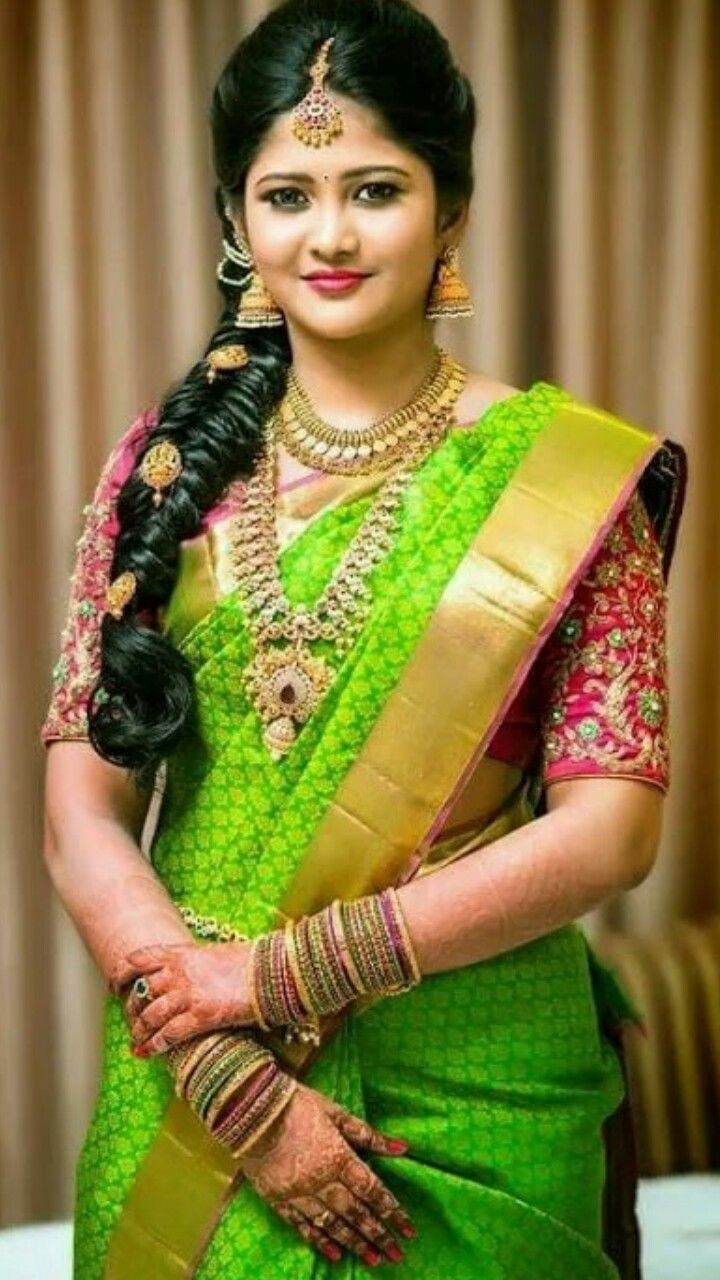 Apart from your gorgeous saree, you need a stunning hairstyle which improves your appearance. We will explore beautiful hairstyles that can complement your special saree and make you look like a true diva. Enjoy!
The low bun
Do you love to match your saree with backless blouses? Use this chance to show off the sexy design of your blouse by holding your hair in the form of a low bun. The hairstyle also lets you flaunt your flawless back or a tattoo on your back.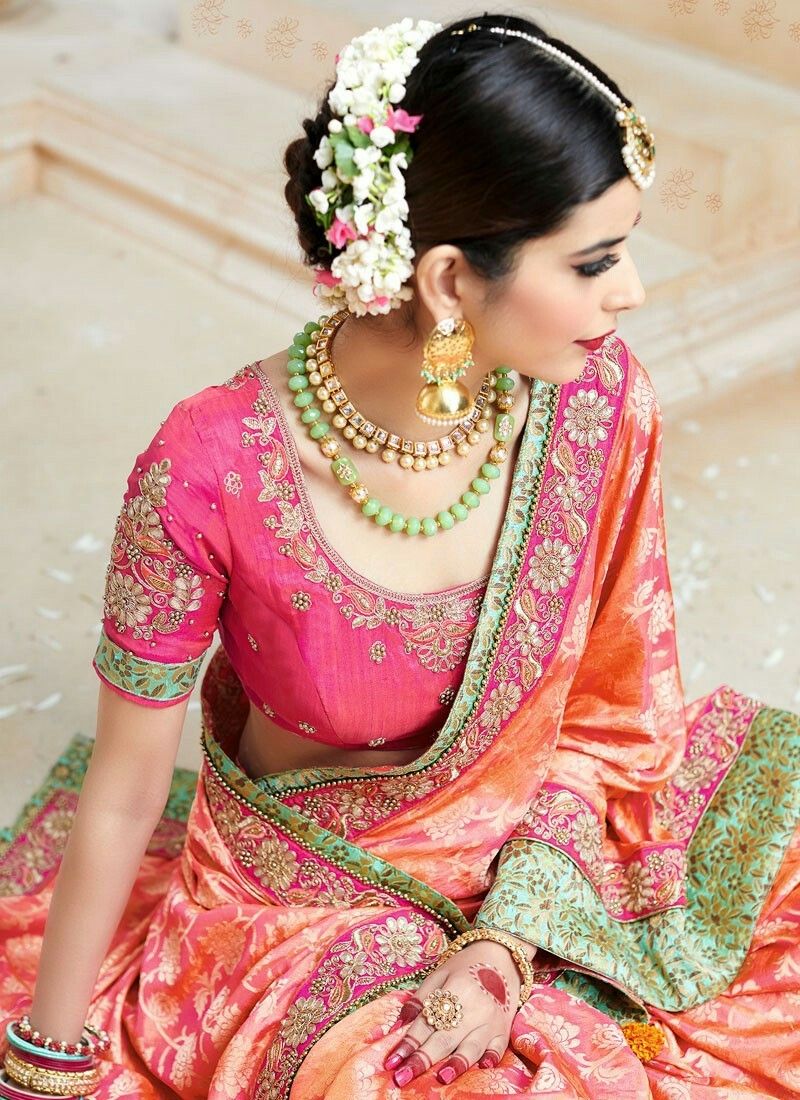 The low bun is not limited to a certain face shape since every lady can look good in it. It is also ideal for sleeveless blouses. To make a low burn, you must get rid of the knots on your hair and sprinkle some texturizing spray on it.
Divide your hair into two parts then hold one section and twist it then pin it at the back of the head. Do the same for the other side. Tie the hair in the form of a low ponytail near your neck and make the ponytail appear like a bun. Make sure you use bobby pins on the hairstyle from different directions. Finish it by applying some hair spray to make the style appear shiny.
Half up curls
Your pattu saree can look more elegant if you add curls to your hair. Half-up curls give you the chance to flaunt your jewelry. It is the perfect hairstyle for a saree wearer with round or square face shape. To make such curls, you must first wash and dry your hair with heat protectant.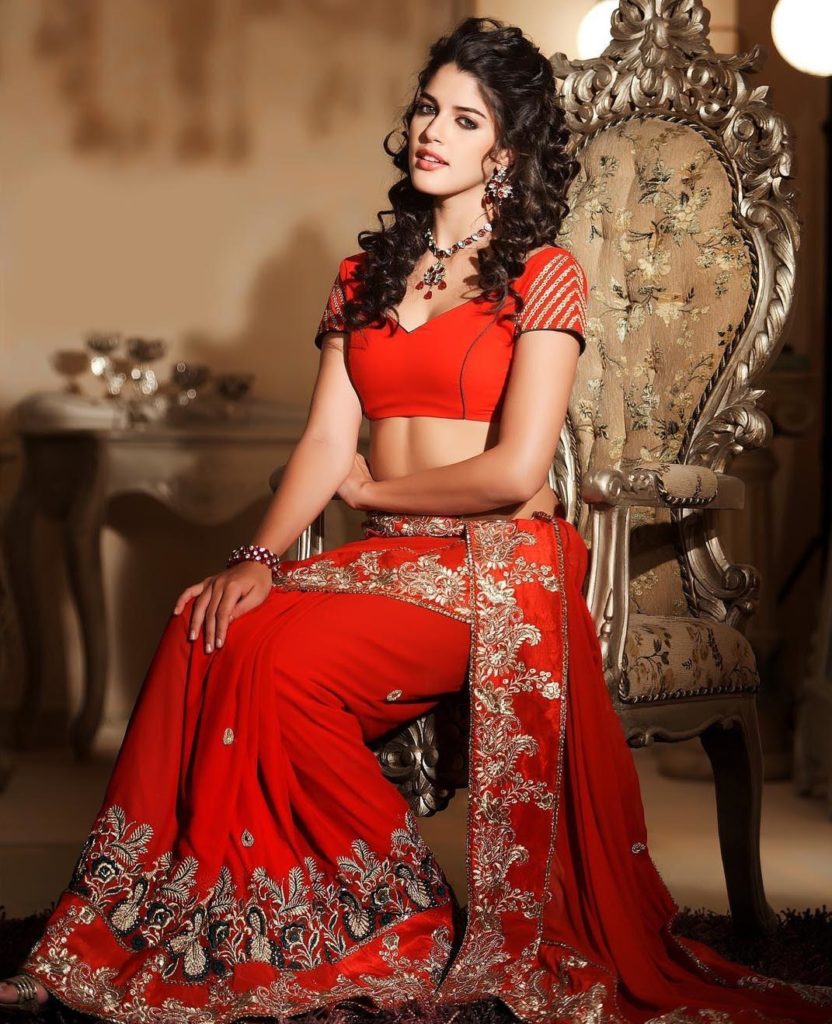 Once it is dry, pick one section of the hair and curl it. Place a bumpit underneath your hair and gather all the parts from the front. Pin it to the center and also at the back side of your head then use some hair spray to finish the look.
Loose curls
Do you prefer chiffon sarees, you can complement them with a simple hairstyle such as loose curls. It is the perfect hairstyle for a lady with an oval-shaped face. Get rid of any knots on your hair during washing and drying then apply heat protectant on it.
Pick small inch sections of your hair one at a time and curl the lower part. Apply a smoothening serum to eliminate any frizz then open the curls using a hairbrush. Be gentle when brushing the curls so that you don't get rid of them completely.
Half up puff
Some people think that sarees are meant for older ladies. You can, however, maintain a youthful appearance by getting the right hairstyle to match a stunning saree. It best suits ladies with diamond or round face shapes.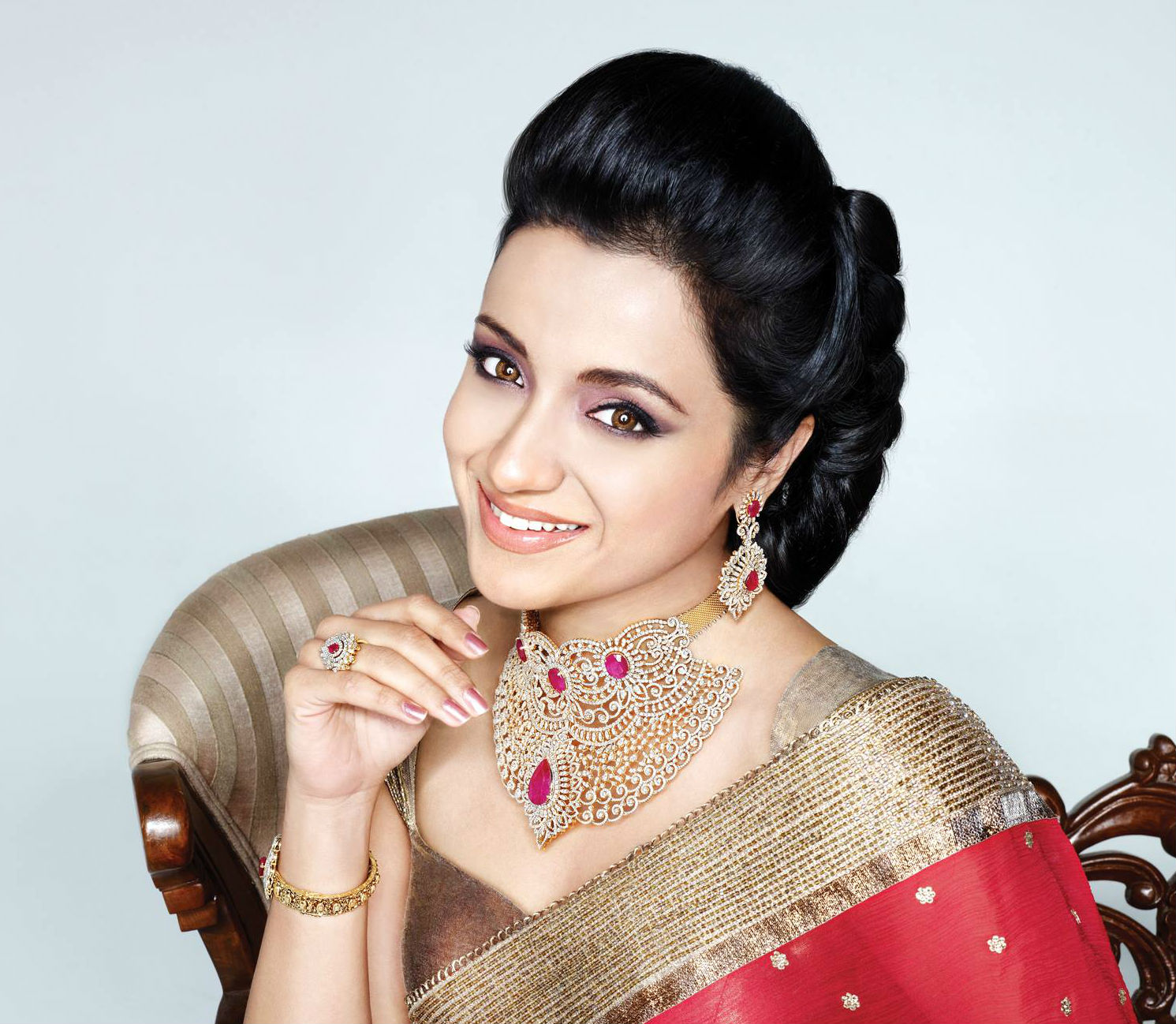 Start by washing and drying your hair then curl the lower section. Tease the entire hair at both the crown and sides then rub serum on a toothed comb. Sleek back the hair using the comb at the front. Gather your sleeked back hair at the center of your hair then fan out the curls and allow them to fall on your back. Finish the look with some hairspray.
Texturized curls
Are your sarees plain? You can make your look more creative by styling your hair in the form of texturized curls. These curls are bold and add a feminine charm to your saree. Unlike other hairstyles, these curls are ideal for all face shapes.
To make texturized curls, you need to pick 2- inch sections of your hair at a time as you curl the lower half of the hair. After making perfect curls apply texturizing spray on them and open them by running your fingers through them. Pick all the hair loosely in front and use pins to hold it at the back of the head.
Fishtail braid
If you have a traditional saree for a special occasion, you should consider choosing a hairstyle such as a fishtail braid. This hairstyle allows you to add some floral accessories to complete the look. It is ideal for ladies with round face shape.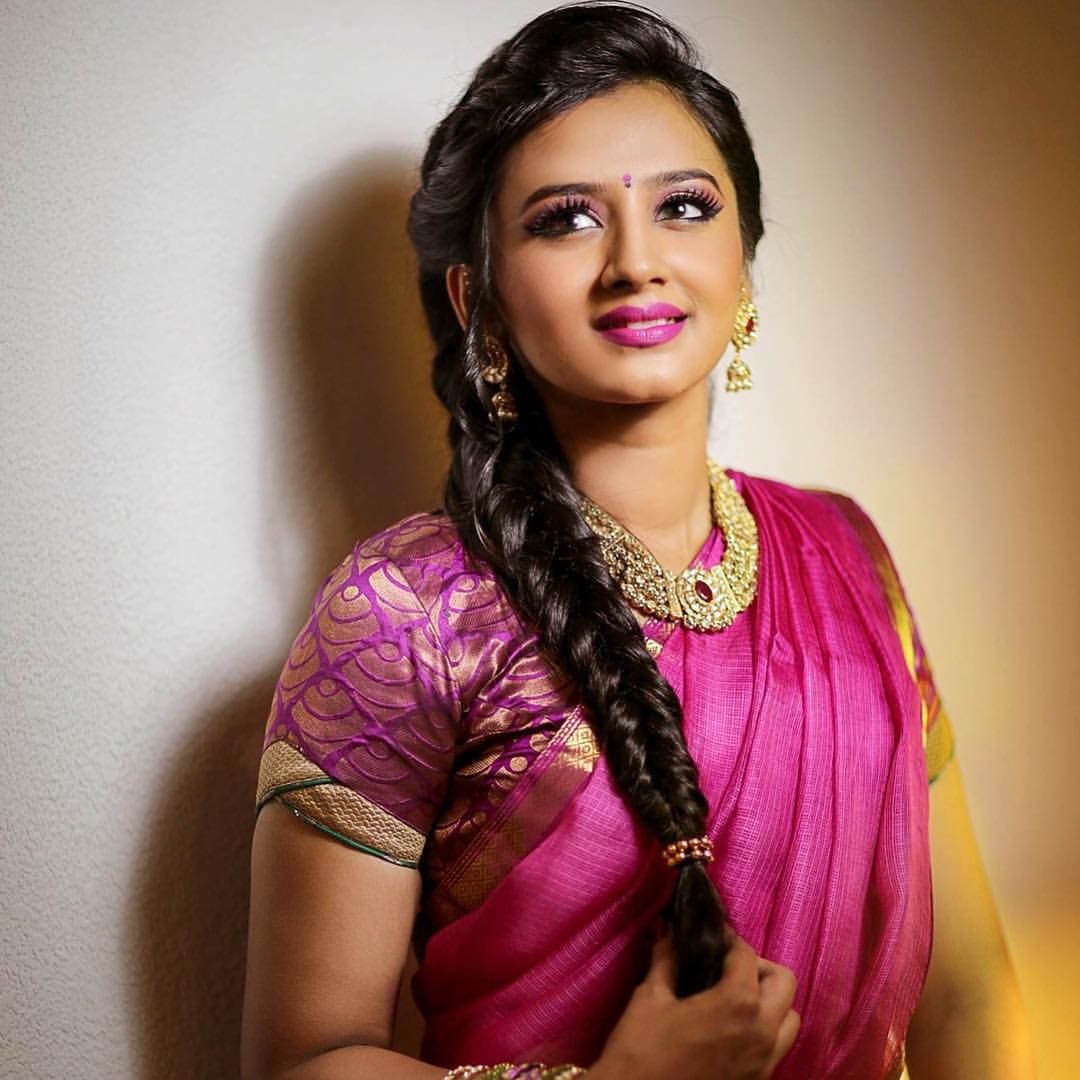 Before you start styling your hair, apply some texturizing spray. Form a low ponytail at the end of the hair then divide it into two sections. Make a fishtail braid picking a thin section from one side and another section from the other side until the braid is complete.  Secure the ponytail at the end using an elastic band. Spray your hair then add some flower accessories on the braid to boost its appearance.
Necklace headdress
You can also save some time by wearing a gold necklace on your head. This can also complement a simple saree by creating a traditional headdress. It goes well with ladies who have big foreheads and long faces.
Wash your hair and dry it then straighten it as you pick different sections at a time. Get rid of frizz by applying a smoothening serum then place the gold necklace on your head. Ensure that it remains secure on the back. It is a simple style that does not come with complicated steps.
Beachy waves
Your party wear saree would look better if you complement it with beachy waves. They make you look sexy and bold and complement the structure of your face perfectly. It is the perfect hairstyle for ladies with heart-shaped faces.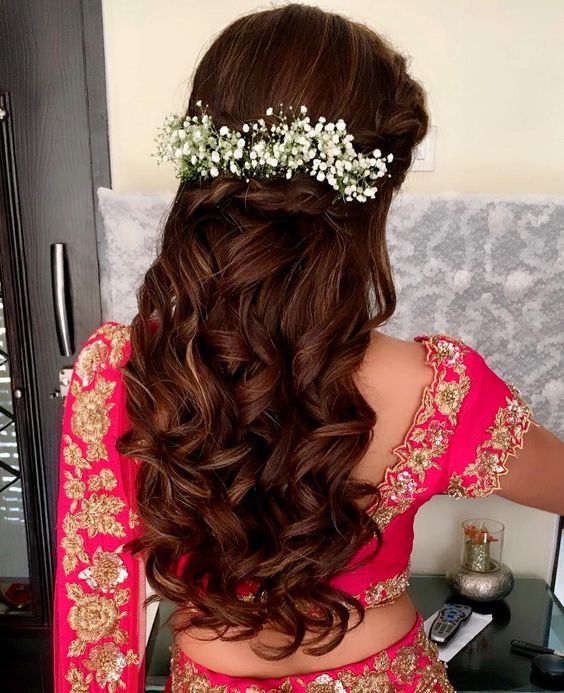 Pick sections of your hair one at a time and curl them. Pass a brush on the curls to make them a bit loose. Ensure that you part the hair down the middle then put your maang teeka to complete the look. Feel free to add a beautiful accessory between the two sections of the hair and use a band to secure the beachy waves in position.