The 10 Best Apple iPod Applications
There are many advantages to using the iPod Touch in the classroom, and no more so than when teaching Language Arts. These Apple iPod Touch apps would be great additions to any English classroom, and best of all, they are free!
So, whether you are looking for reference tools, e-book readers, or word games, you can find all of these and more in this list. Some are free versions of paid apps, but they remain worthy enough to make the list.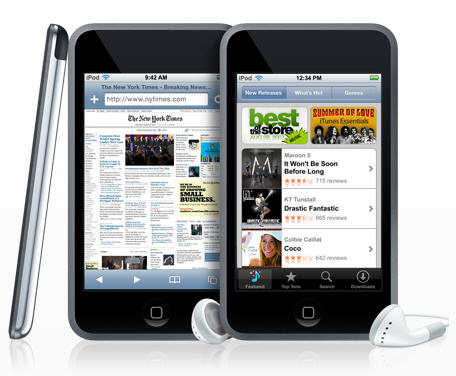 1. Requall:
Requall is a great tool for managing and organizing your life. Requall has all the necessary features you need to plan your life. The to-do list and the shopping list are two great features of Requall which help keeping track of things you desire. You can synchronize the lists if you have a Wi-Fi connection which is great for organizing personal data. It also has a 'notes' section to make sure you don't forget anything that's on your mind.
2. Rockband:
Rockband is another great iPod touch app available on the Apple App Store. The application offers a great number of music options and uses a good quality format for audio which enhances the user's experience.
3. Facebook:
Ever felt the need to send some important message on Facebook? Or have you ever wanted to stay in touch with your friends on Facebook on the go? Well, this great application will allow you to do just that on your iPod.
4. iFitness:

iFitness is a great app for people who are concerned about their physical health in this busy world of today. Ever feel like you don't get enough time to join some fitness club to take proper care of your body and learn how to do proper exercises? Well, this app has nearly 300 different exercise routines with proper instructions along with videos and images to help you learn the proper way to exercise.
5. 1Password:
The world is turning into a world of digital mess with countless accounts and passwords to remember. 1Password is an easy solution to keeping all personal data information in one place and under great security. This application can be used to store passwords, account names, credit card information and much more.
6. Stanza:
Stanza is a great eBook reader that turns your iPod Touch into a mini eBook reader for reading books on the go. It can be linked with several online bookstores to directly download books from them with ease. If you like reading books, then Stanza is the perfect application for you.
7. Evernote:
Tired of keeping notepads with you for taking notes or organizing your schedule? Evernote is a great application to help you organize your personal information in the most effective manner. You can add/edit notes in rich format with images on your Evernote account using this great application.
8. NetNewsWire:
Net NewsWire is an excellent application if you are a frequent reader of web feeds. It is basically a Google Reader that allows synchronization with your feeds. You can download them all when a Wi-Fi connection is available and then read them in offline mode later on.
9. Yelp:
Yelp provides full directions to restaurants, pubs and cafes and also provides user recommendations and reviews of these food places to allow users to find the ideal place for their next meal. If you think that's great, Yelp also offers online reservations and provides contact information of several restaurants to help users make timely arrangements to avoid problems.
10. Pandora Radio:
This neat little application will allow you to listen to your favorite music online for free. Simply search for the song you wish to listen to and enter into the world of music, completely free of cost.