Polki Set Designs 2010 -2011 Collection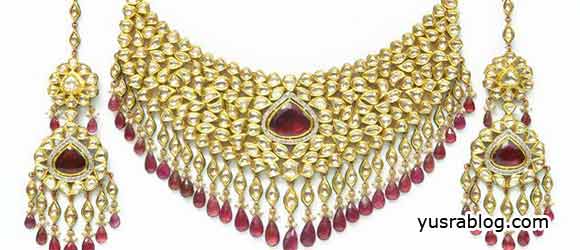 Today's woman is very aware of modern fashion sensibilities. The modern woman wants to wear fashionable jewelry, which does not look too traditional and can complement a Western outfit nicely. This is where contemporary Bohemian jewelry can do wonders for a woman's outfit.
Polki jewelry is created out of uncut diamonds and basically built around the shape. Rather than finishing them off to a specific size and shape, the base metal is molded around these uncut diamonds to create a beautiful and unique design.
Polki are basically uncut diamonds which have fewer facets. When compared to cut diamonds, they have less clarity & brilliance. After mining, polki diamonds are retained in their natural form without any enhancement. Despite theories, polki cannot be created synthetically in the lab.
In this post, we have collected latest beautiful designs of Polki sets. Let's have a look at these photographs in detail.
Polki Set  Designs for Women  – Photo Gallery