Cozy Night at Home Must-Haves
There are few things in life more relaxing than a night spent getting cozy in your own home with all of your favorite essentials. You will instantly feel your troubles and stress melt away when you prepare to unwind in the comfort of your own home.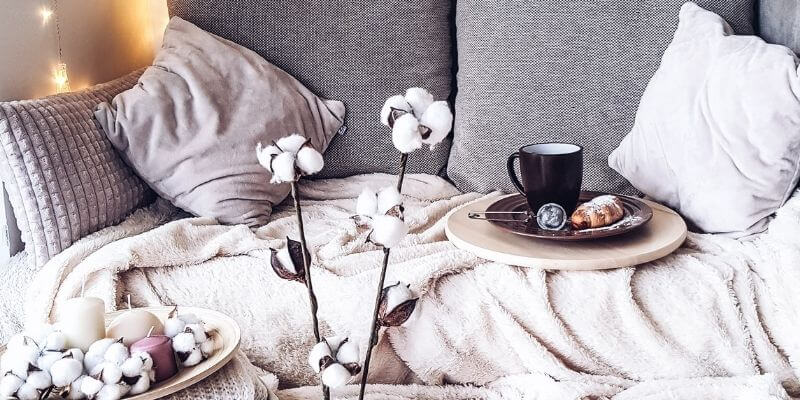 Here are five cozy must-have items for a night at home.
Indulgent Food and Drink
Your food and drink spread will be the centerpiece of your night in. Do not skimp on this area if you want to feel truly pampered. Depending on what kind of mood you are looking to achieve, you can go fancy or casual with your selections. For an indulgent experience, consider shrimp cocktails, chocolate, charcuterie boards, and champagne. For a more laid-back vibe, you cannot go wrong with ordering a pizza or Chinese takeout. Finish it off with a warm cup of tea.
Entertainment
Every night in needs some entertainment to pass the time. Good choices include watching the latest blockbuster or binge-watching your favorite television show. If you are hanging out with friends and family, this is a great opportunity to break out some board games or a deck of cards. If you are alone, there is nothing better than curling up with a good book.
Loungewear
How can you be expected to relax if you are not wearing the most comfortable clothes? Start your night in by changing into some comfy and cozy clothes. For the best selection of womens loungewear, you can always use the internet and get the best results. Online stores have a variety of comfortable clothing that comes in a variety of styles, sizes, and colors, and are guaranteed to fit every personal preference. While most physical stores are not open for shopping, you can still find all of your favorite styles online.
Scented Candles
Scented candles are an essential addition to the theme of your evening. Picking a candle with a seasonal scent will elevate the mood even further. Not only do scented candles produce a relaxing scent for your home, but the low light also helps to create the mood that you are looking for. If you do not like candles, you can achieve the same vibe with incense. Twinkle fairy lights will also help you to achieve a magical atmosphere for your night spent inside.
Pillows and Blankets
The finishing touch on your cozy night at home is a big pile of blankets and pillows. Sherpa blankets are particularly soft and comfortable. Be sure to gather some oversized blankets so that you can wrap yourself up in the softness. Your favorite pillow is also a must-have if you plan on watching a movie or cozying up with a book. A heated neck pillow is especially comforting, helping you to loosen your muscles and truly relax.
These five ideas will definitely provide you with all of the essentials for a cozy night spent at home. You will never want the night to end once you get settled in with all of your favorite things.