Mohammad Asif and Sana Hilal Get Married – Wedding Pictures and Video
Mohammad asif pakistan fast bowler, finally brought his wife home after Six months. The bride, Sana Hilal, and Asif"s "rukhsati" ceremony took place six months after their "nikah" due to the pacer"s commitments with the Pakistan team. "It is a relief to finally bring my wife home. We have waited for a while now to be together as I have been busy on foreign tours with the team," Asif told the media at the wedding reception.
Asif entered into Nikah with Sana after breaking up with actress and model Veena Malik after a much publicised affair which ended in acrimony with both going to court against each other over a monetary dispute earlier this year. Asif said he hoped that his wife would bring him good luck and change his life and cricket career for the better. "I am feeling happy that finally I can settle down to married life. It was a marriage of my own will," he said.
The colorful reception in the posh defence area was attended by a large number of Asif"s teammates including Salman Butt, Mohammad Hafeez, Kamran Akmal, Umar Akmal, Misbah-ul-Haq and some former players and officials. Ironically, both Asif and Butt are serving a provisional suspension imposed on them by the ICC for their alleged involvement in spot-fixing.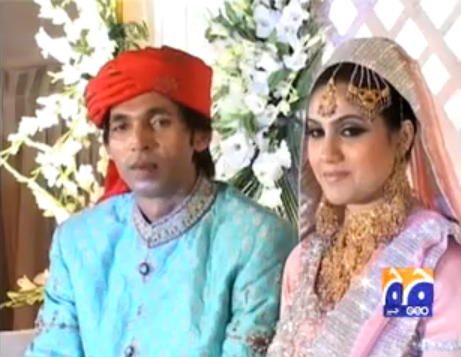 Muhammad Asif with Wife Sana Halal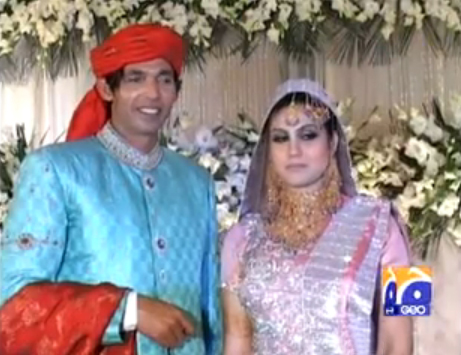 Muhammad Asif and Sana Halal Nikah Video
[media id=11 width=540 height=390]
Muhammad Asif and Sana Halal Rukhsati Video

[media id=12 width=540 height=390]