Fabulous Nail Art Styles 2010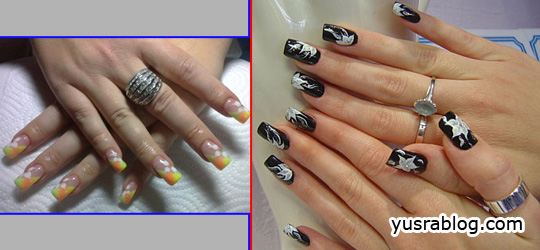 Beauty of girls remain colorless without trendy and exquisite nail art. Unique nail art ideas differ you from common gathering, and you become a trend setter in the field of nail art designs. It is must have fashion for girls and women.
Nail art fashion flows simultaneously with the regular fashion, so it is utmost to remain up to date with the latest, new and charming nail art designs. Nail art for teenagers, ought to be bright in color of pink, red or blue  or if a strong style statement is to be portrayed, then go for black nail paint accented with glittery flower or crystal.
This enticing post is about latest nail art styles, trends and designs gallery for summer 2010. Latest nail art fashion for 2010 needs design to be chic and classic, so explore your imagination, get inspired by nature, its beauty, go for a trendy nail art design and follow a simple mantra. Be Creative, Be Fabulous!