Ladies Day at Cheltenham Festival
When we think of fashion in horse racing, what normally comes to mind is a jockey's look – jodhpurs, boots, colours – not something that we usually consider very interesting, style-wise.
But at Ladies Day at the Cheltenham Festival, eye-catching fashion statements are to be expected. In fact, it is this focus on fashion that is a big part (besides the horseracing) of what makes the occasion so remarkable.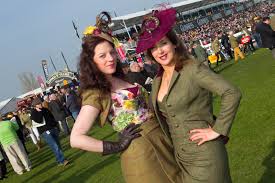 For a little background (in case you're not up on your horseracing), the Cheltenham Festival, which takes place every year in March, is the second biggest horse-racing event in the United Kingdom. Some of the best Irish and British horses compete for the big prizes.
The second day of the festival is known as Ladies Day, and it is traditional for race-goers that day to dress to the nines in the most British of ways – fascinators, tweed, and blazers can all be spotted. To add to the glitz and glamour of the day, there are even prizes for best dressed lady, best hat and best accessories. As we wait expectantly for this year's turnout, let's revisit some of the trends from previous years' festivals.
One of the most noticeable trends at Ladies Day is, of course, the fascinator. This traditional British hat has been spotted atop female festival-goers throughout the years, usually with feathers from a variety of birds, from pheasant to peacock. These statement-making accessories are crowd favourites and can often be seen taking home the prize for best hat.
A popular yet controversial fashion trend is fur accessories. March weather is notoriously unpredictable, and many attendees opt for the warmth of fur hats, coats, boots, and scarves. Of course some choose to go with fake fur, a choice that we heartily approve of; and with so many good-looking faux options on sale today, the difference can be hard to spot!
Another fashion staple of the Cheltenham Festival is traditional country clothing and accessories, such as brogues, leather gloves, and, of course, tweed. Tweed accessories are some of the most commonly spotted at the festival, for obvious reasons – after all, what is a horseracing festival without a classic tweed coat?
And though it is Ladies Day that we are talking about, let us give the dapper men in the crowd an honourable mention. We are big fans of the menswear at the tracks, with blazers, ties, and brogues galore! If in addition to smart Cheltenham fashion you fancy a flutter, find out more about Cheltenham at William Hill, the UK's top name in sports betting.