Ponytail Hairstyle For Summer Season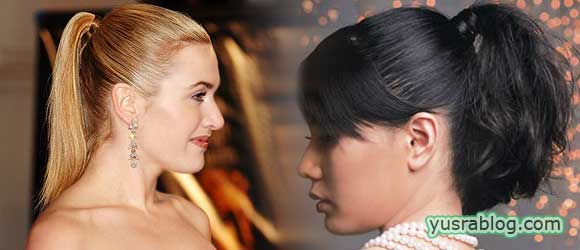 Classic Ponytail For Summer
Pony Tails
Hair that is long enough to tie up is convenient, but doesn't have to be boring. Pony tails aren't just for use when working out, or doing the housework,
There are many ways to achieve stylish up dos, for day or night.
The messy bun looks gorgeous for a casual daytime look. Adding diamantes or a vintage hair pin will turn the look from day to a stunning evening out. There are many ways to achieve the messy bun look, and these depend on your hair type.
For curly, wavy hair, scrunching and twisting hair into a bun may be adequate. For straight hair, the use of a diffuser and styling products will help.
Tip
Be careful with messy up do hairstyles, as there is a fine line between sexy bed head babe and daggy,
Try braiding. We know what you are thinking, braids are for cute five year old girls, but this is not always the case. Adding a few small braids to up dos is a simple, yet easy way to add interest to a plain look.
Long, sleep ponytails: will always be in fashion. An old trick to make this gorgeous look more sophisticated is by twisting a section of hair around the elastic and securing with a bobby pin.
Tip
It may sound obvious, but a common fashion mistake is to use the wrong colour pin, match it as closely to your hair colour as possible, unless you are looking to use them as a stand out feature.
Another variation on the sleek ponytail which has been seen on various models in the past, is to create sections down the length of the hair, and secure with elastics. We love BLAX clear snag free hair elastics.
Quiffs may not be for everyone, but if you can pull it off it is a sophisticated hairstyle and very much in fashion. By teasing the front top section of your hair, and securing it back in place you will create instant glamour. Don't forget the hairspray for maximum hold!
Tip
If you just want extra volume, downsizing the quiff is a great option!
Make use of headbands. There is a huge range available on the market and they suit all hairstyles, and look especially good with upstyles. Thick, thin, patterned, floral, plain, simple, elegant, there is a headband for you.
Tip
If you find headbands give you sore ears, or even a headache, try a softer material, or make use of headscarves.
For short hairstyles there are many hairpieces available today that look and feel like real hair.
If you have medium to long hair, don't be afraid to experiment with different upstyles.