6 Sweet and Savory CBD Oil Recipes to Help You Chill
If you've acquainted with the numerous health benefits associated with CBD oil, then, you might have considered adding it to your dishes. And this is, indeed, an excellent idea and a great way of taking advantage of all those properties. The best part about CBD oil is that it will most likely diminish your anxiety, allowing you to cope with stress better, minus the high feeling we associate with THC.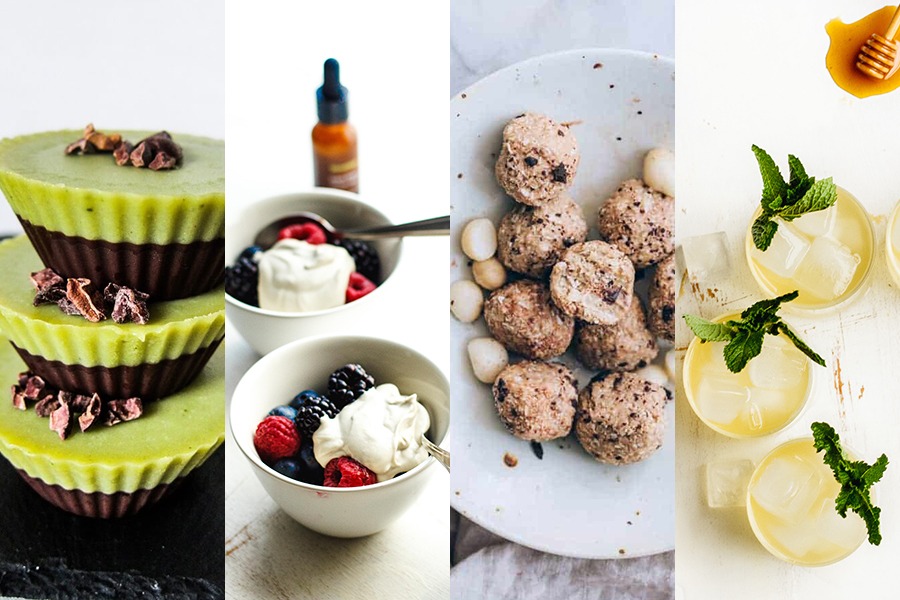 1. CBD Chocolate Latte
Ingredients:
1 tbsp. raw cacao powder
1 tsp. vanilla extract
1 cup unsweetened milk
1 tbsp. maple syrup
Pinch of sea salt
CBD oil
Mix all the ingredients in a pot, with the exception of the CBD oil. The mix should simmer over medium heat, to avoid unsightly lumps. At last, add the CBD oil and you can now enjoy your beverage.
2. CBD Snacks
Ingredients:
1/3 cup almond flour
¾ cup macadamia nuts
½ tsp. ground cinnamon
1 tbsp. melted coconut oil
1 tbsp. CBD oil
1 tsp. pure vanilla extract
2 tbsp. cacao nibs
Basically, you should combine all these ingredients in a high-speed blender. Start with macadamia nuts, and gradually include the other ingredients. If you want to give it a sweet flavor, you can add a couple of drops of monk fruit or stevia. Once you do that, all you have to do is roll small balls out of the mixture. You may store them in your refrigerator for up to a week.
3. CBD Green Tea Matcha Latte
Ingredients:
2 tsp. coconut sugar
½ tsp. matcha powder
1 tsp. coconut butter
10 ounces hot water
5 ml. CBD oil
Mix the matcha powder, coconut butter and coconut sugar in a mug. Afterward, pour the hot water whilst steering the ingredients, to ensure that they melt homogeneously. The last thing you should do is add the CBD oil and that'll be it!
4. CBD Fresh Mint Tea
Ingredients:
4 cups of filtered water
2 handful of fresh mint
Lemon juice (if you want)
CBD oil
Place a couple of fresh mint leaves in a glass. Pour the boiled water over the top, and allow it to sit for ten minutes. The lemon juice and CBD oil are the cherry on the top!
5. CBD Pumpkin Golden Milk
Ingredients:
1 tbsp. raw honey
¼ tsp. allspice
¼ tsp. ground nutmeg
1 tsp. cinnamon
1/3 cup organic pumpkin puree
2 cups coconut milk
½ tsp. ground ginger
2 tsp. CBD oil
1 pinch of ground pepper
Allow the coconut milk to simmer in a saucepan. Meanwhile, you should combine the spices and the pumpkin puree, with the oil. When you notice that the coconut milk is simmering, you should slowly incorporate the mixed ingredients. And lastly, stir the whole thing until frothy!
6. Rooibos Tea Latte
Ingredients:
1 cup water
1 tbsp. grass-fed butter / ¼ cup canned coconut milk
2 bags rooibos tea
CBD oil
Collagen blend
Liquid monk fruit extract (optional)
After prepping the tea, you ought to remove the tea bags and incorporate the rest of the ingredients (with the exception of the collagen blend). Transfer the mix into a blender, you should blend it until everything is nicely incorporated. Lastly, you should incorporate the collagen blend.
We hope that you found our suggestions inspiring! Remember, there are many fun ways in which you can pamper yourself – you just have to use your imagination and get some inspiration.