Overview About Hawaiian Tattoos History
Hawaiian tattoos have become extremely popular in modern Western culture among tattoo artists and enthusiasts. However, while Hawaiian tattoo designs from bold tribal arm and leg bands to illustrations of exotic flowers–have been the most prevalent in the last few decades, the art has a long and rich history. In fact, Hawaii and Polynesia are known internationally as two of the art form's most influential birthplaces.
Hawaiian Tattoos History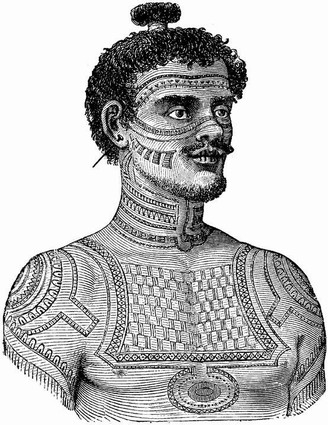 It's no coincidence that the word "tattoo" is of Polynesian origin. In fact, it's believed that the Western world wasn't even introduced to this ancient art form until Captain James Cook made his famous journey through what are now known as the Hawaiian Islands.The tattooing process itself in those days was quite crude by today's modern standards, and like many other ancient cultures, Hawaiian tattoos were created using various items as needles, including fish bones, claws, and even bird beaks. The Hawaiians seemed to prefer making multiple pierces to the skin with a single blow, since many of the ancient tattoo piercing implements that have been recovered have split tips at the end, or have several "needles" set into a single handle.
Although it's believed that there were no restrictions about who could wear tattoos based on gender, social standing, or otherwise, it seems that the greater an individual's wealth, the more tattoos they had, so having many tattoos probably signaled higher status within the community.
At the other end of the spectrum, convicted criminals and defeated warriors were often given tattoos to proclaim the dishonor to the rest of society.
Hawaiian Tribal Tattoos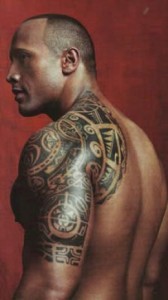 Tattooing was an important aspect of the Hawaiian culture, just like anywhere on the Polynesian islands. The Hawaiians even have tattoo gods and each time a member of the community gets a tattoo, prayers had to be done in the temple.
Hawaiian tribal tattoo art, known as Kakau, has been practiced for thousands of years and for a variety of purposes:
Personal Identification
Unlike other Polynesian tattoo styles, Hawaiian tattoos are used for personal identification (instead of ceremonial purposes).
Talisman
Tattoos were believed to offer protection.
Symbol
As a symbol of mourning for a loved one.
Adornment
The Hawaiian tribal tattoos were mostly black, the tattoo ink was made of a mixture of kukui nuts and sugarcane juice.
Getting a tattoo in a tribal community was not a very pleasant occasion, modern tattoo equipment was not part of tribal life. Instead they used sharp and pointy parts of animals, like bird beaks and claws, that were connected to a branch and hit with a mallet.
The Hawaiian tattoo designs are larger compared to other Polynesian designs, and bolder as well. Typical Hawaiian tattoo designs include:
Lizards
The Hawaiians had a great respect and fear for lizards.
Sea turtle tattoos
Dolphins
Tropical flowers
Arrows
Typical spots for tribal Hawaiian tattoos:
Male
The legs, arms, face and torso
Female
The hands, wrist and tongue
In the beginning of the 19th century, when European settlers arrived in Hawaii, the art of the Hawaiian tattoo slowly vanished until its renaissance in the 20th century.
Hawaiian Flower Tattoos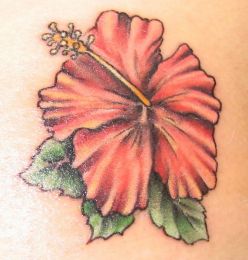 Tattoos incorporating flower designs as a lot of Hawaiian tattoos do – don't appeal to everyone, though it should be noted that Hawaiian tattoos are not particularly feminine despite their floral components.
The most popular Hawaiian flower tattoo design is without any doubt the Hibiscus (t he yellow variant of the Hibiscus flower is the state flower of Hawaii). Common Hibiscus colors are yellow, red, pink, white and purple.
Another popular Hawaiian tattoo design is the orchid tattoo, especially ghost orchid designs. Ghost orchids are very beautiful flowers and rather peculiar. Orchids are an endangered species, what makes the symbolic meaning of orchid tattoos something like "rare beauty".
Hawaiian Band Tattoos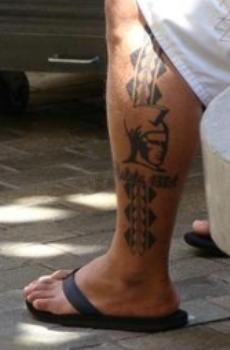 Hawaiian band tattoos are commonly found on the arm and the legs. Hawaiian arm tattoos are often a nod to the traditional Hawaiian tattoo style, though with a decidedly modern appearance.
Michael Malone, tattoo artist and one of the students of Sailor Jerry (see further), created the Hawaiian armband tattoo in the 70s. Although he based his designs on the traditional Hawaiian tattoo motifs, the armband itself is not traditional. The armband tattoo became popular amongst Hawaiian youth that wanted to express its heritage.
Famous Hawaiian Tattoo Artists
2 Names come to mind when thinking about Hawaiian tattoo artists:
Keone Nunes
Being a traditional tattoo artist, he uses traditional tattoo equipment like tattoo ink made from kukui nuts and a fine-tooth comb made from the tusk of a hippo.
Aisea Toetuou
Originally from Tonga, moved to Hawaii.