2021 New Year's Eve Outfits Ideas To Rock The Party At Midnight
As New Year is just around the corner, everyone is planning for a grand celebration. And with celebrations comes the burden of choosing the right party wear. If you have to attend a New Year party this year, you must pick the best dress for the midnight party.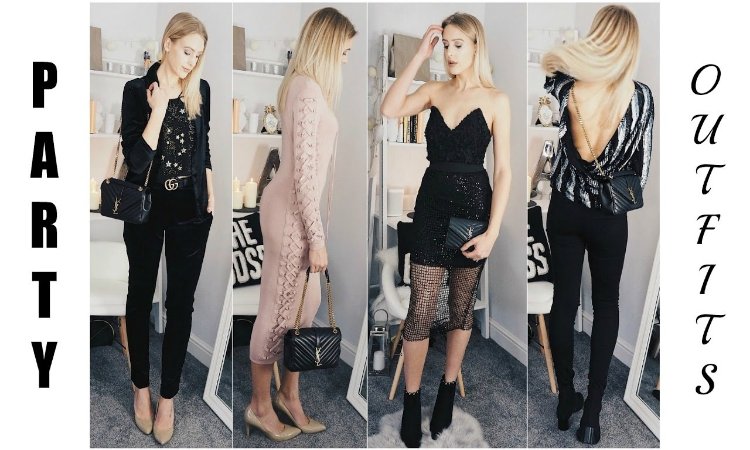 So let's discuss the various types of party wear for your New Year parties.
Gown Dress
Although gown style dresses are perfect for festivals and weddings, still you can choose them for a New Year celebration party. A long gown with sheer lace, sequins and an attractive neckline will surely steal the show. But gowns look good on tall women. So make sure you wear a gown that suits your body type. Some gowns are flared and are of floor-lengths. You can wear gowns with stylish jackets. Simple and elegant accessories look beautiful with gowns.
Sequined Dress
Imagine a gold or silver sequined dress to a midnight New Year party. It will add to the glamour of the whole event. Shining colours look bright and glamorous. But when you choose a sequined dress, you have to wear something that makes you comfortable and doesn't make you look overdressed. Also, you should be careful with glitters and sparkles. For instance, you can wear a simple sequined black dress with a black solid shrug on top.
Designer Tops With Skirts
Another hot favourite among women during arty season is to wear designer tops with any kind of bottoms. Especially with western skirts, you can wear a designer top in deep, solid colours. You can buy the best designer top collection from online clothes stores. Denim skirts with full or quarter sleeve tops are very popular. You can even try a long, dazzling skirt with a sleeveless top. You can also buy party wear tops online from designer stores.
Velvet Dresses
Velvet fabric is very demanding these days. They make a dress look rich and elegant. If you wear a deep red velvet dress, you can easily become a head-turner. Fitted midi dresses can be tailor-made with velvet fabric. You can choose the colour and designs as per your style statement. Just carry a clutch, wear high heels and a velvet dress to be a showstopper at a party.
Flared Dresses
Flared dresses are great for anyone who does not love to wear fitted, body-hugging dresses. The best part is that flared dresses are comfortable, easy to carry and make you look sophisticated. Chiffon and silk flared dresses are very popular. You can also wear a scarf with such dresses. With flared dresses, clutches and heels are perfect. To add a style statement you can wear a waist belt over the dress.
Asymmetrical Dresses
For a glamorous look, an asymmetrical dress is the final choice for this New Year celebration. Asymmetrical hemline gives a very attractive look to the entire dress. You can buy calf-length or knee-length asymmetrical dresses from online shopping destinations. You can also tailor-fit a dress as per your choice.
How To Carry A Party Wear?
Now that you know what to wear to New Year parties, it is time to know how to carry a party dress. Some essential tips to carry party dress confidently are:
Do not follow any trend. Wear what is stylish and you love to.
Always wear that makes you feel comfortable. You must not wear a dress that makes you uncomfortable.
Try to look natural. If you overdo makeup or any hairstyle, it may change your personality.
Wear appropriate accessories with the dress you choose for the party.
Above all, prioritise your personal choice. For New Year celebration, you have to keep your own style preference in mind.