Awesome Photographs of Lahore Aerial View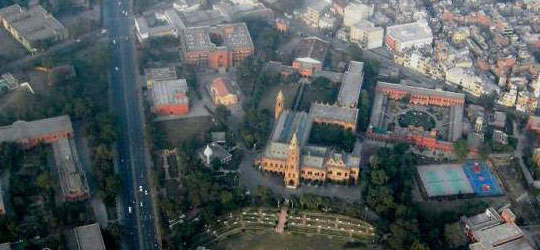 Who don't know the famous quote "Lahore Lahore aye". This quote is in Punjabi and incorporate the beauty, hospitality and glory of Lahore. Lahore is the city of Pakistan and famous for its several factors like Lahore food street, Lahore museum etc. It covers all the things in multi-dimensional array like magnificent Islamic culture, education in the form of re known universities and colleges of girls and boys and all the other aspects of life.
I was thinking about Lahore so an idea came into mind to share some unique with my readers and lahori girls & boys. So i decided to share beautiful pictures of Lahore from aerial view.
Lahore Liberty Market
Lahore liberty market is very famous among the age of any group. It is the favorite place of girls and boys for shopping. People come here from all over the Pakistan to enjoy the unique feel and look of shopping in a modern perspective. Lahore liberty market is visible in the form of inverted U.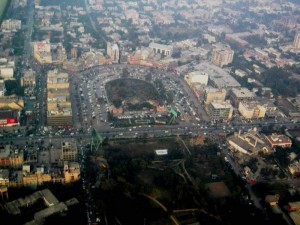 Gaddafi Stadium Lahore
Gaddafi stadium is a famous cricket ground in Pakistan designed by Murat Khan. It is an interesting information for cricket lovers that its original name was Lahore Stadium. It's name was dedicated to Colonel Gaddafi in 1974.
Following aerial view is covering the popular Gaddafi cricket stadium lahore, Oval shaped Alhamra art gallery, Hockey and Athletics stadium on the other side of road, Forman Christian college (F.C. College) grounds and adjacent Gulberg, Garden town and Muslim town housing schemes.
Lahore is famous for its food so popular Lahori food spots are also visible under the stairs of Gaddafi stadium like Deera, Malwari, Fazal-e-Haq, Butt and Bundu Khan.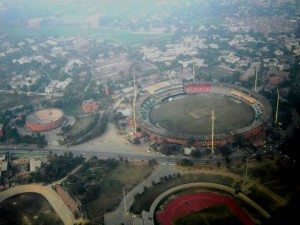 Lahore Exposure Photograph
This aerial view obviously belongs to the cohort of the fine housing art of old and new Lahore. You can observe the gigantic towers in the picture which are either mosque minarets or communication antenna's. Buildings are like small boxes that are delivering the message of overall perception of  Lahore population.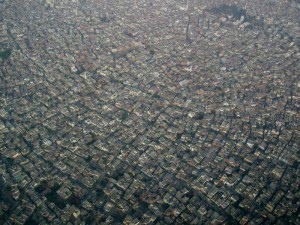 Sheikhupura Fort
Sheikhupura is near to Lahore in Pakistan. It is famous for historical places, and one biggest historical place is Qila Sheikhupura.  Here is an amazing aerial view of Kot Dayal Das old name of Sheikhupura.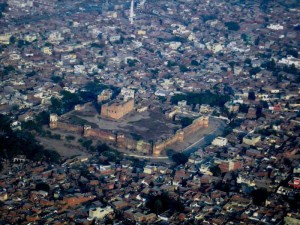 Hiran Minar Sheikhupura
Hiran minar which was build during the era of Mughal Jahangir & Shah Jahan is located in the alluring atmosphere  near Lahore in the Sheikhpura, Pakistan. It is packed with the unique and amazing features like antelope's grave and the impressive system of water collection. It's location and environment supports the best landscape view that directly penetrates to the soul of human being.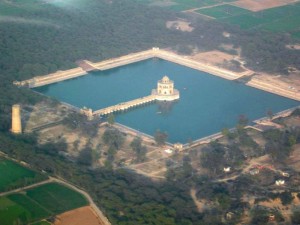 Lahore Fort & Badshahi Mosque
Badshahi mosque is a great example of beauty and passion of Mughal era. This aerial view is also demonstrating the Lahore fort. Both of them are center of attraction for the tourist.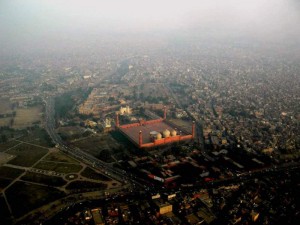 Government College University Lahore
The start of famous Mall of Lahore is decorated with the Government college university. Lahore is the heart of Pakistan and this area is the heart of Lahore with full of law, academic and other civil services buildings. This is an awesome areal view of this locality.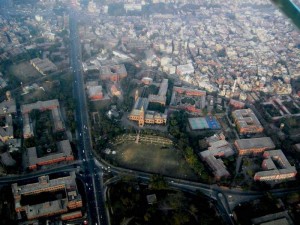 I hope this unique and new angle of Lahore aerial view will enjoy you.