Pakistani Fashion Designers List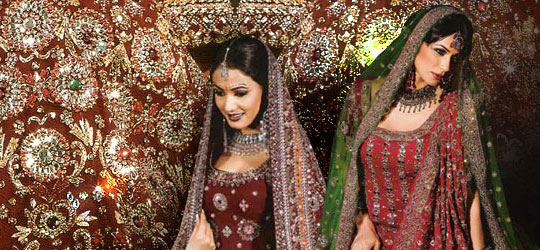 Fashion designer  plays a key role in establishing the Fashion statement of the country. There is a list of Pakistani Fashion designers working tremendously in the Pakistani Fashion Industry.  Fashion designers of Pakistani Fashion  industry are continuously polishing the name of the Pakistani Fashion Industry in the international Fashion market.
Pakistani Fashion Designers Directory
Aijazz Aslam
Aijazz Aslam runs a men's wear boutique in Pakistan. Aijazz is the lucky one to have started his business early enough, and nowadays he is doing good in menswear both ethnic and western.
Ali Xeeshan
Other than many brilliant & influential motives of Fashion designer Ali Xeeshan, another purpose behind his designing beliefs is to reflect Pakistan as a colorful state.
Amina Tahir
Amina Tahir formally launched her collection in 2003 under the title of Amina's Collection. Owing to her natural flair for fashion, she had been designing.
Amina Yasmeen
"I don't call myself a full-fledged designer as yet. But what I do is appreciated by my clients."
Amir Adnan
Despite it being a textile hub, fashion, style and glamour are not labels commonly associated with the industrial Punjab city of Faisalabad.
Ammar Belal
From the kings and Queens of Pakistan's fashion realm to yet another charming prince. At first, one might argue that there is only a slight design factor.
Asifa and Nabil
Asifa and Nabeel are two young designers with an indisputable flair for fashion. They together form a formidable team of eastern plus trendy.
Ayesha F Hashwani
Fashion designer Ayesha F Hashwani is a young & talented designer and has capacity to move successfully by producing quality work.
Bunto Kazmi
There is a quiet dignity in the Kazmi household. On entering the residence/showroom, one feels transported to a modern Mughal atmosphere .
Deepak Perwani
Deepak Perwani, designer, runs a men's boutique in Pakistan. As the fading century slips into the new millennium, his couture shows signs of staying.
Faiza Sami
Faiza Samee believes Pakistani embroidery has interesting influences that range from the Chinese to the Turkish Enlarge.
Hajra Hayat
Fashion designer Hajra Hayat has got an alarming & unique Fashion sense.
Hassan Shehryar Yasin
While Hassan Shehryar Yasin's (HSY) choreography always has an upbeat pace, not for him leisurely sashaying on the catwalk by the models.
Hoorain
Fashion designer Saima Yousaf is primarily known for its Haute Couture and its signature style, focusing on luster, shine and vibrancy.
Jugaan – by Shazia Wajahat
Shazia Wajahat carried inborn gifted qualities from her father who had been doing his business in India. Before partition her father was interviewed by BBC.
Kamiar Rokni's Karma
Karma is one of those lucky few who always knew what it is they wanted to do with their lives.
Kechoo's – by Jehangir
The label Kechoo's one of the best fresh fashion houses of Pakistan is a collection of art merged in eastern wear.
Khaadi – Shamoon Sultan
The only place where success comes before work is in the dictionary. Except in the case of Shamoon Sultan – owner and chief designer of Khaadi creations.
Khayal
Khayaal began eight years ago by Durnave Chaudhri when an interest in fashion design was translated into a formal enterprise committed to reviving.
Klash – by Kanwal Lashari
Klash is one label commonly known for the best formal line in town. The fashion designer Kanwal Lashari of Klash had groomed her skills at National College of Arts Lahore.
Lajwanti by Afzal Ali & Ana Ali
Lajwanti primarily started as haut-e-couture high-end Bridal fashion house. Producing masterpiece Bridal, Formal and party wears on customer's demands.
Maria B.
Maria Belal is an ambitious young Pakistani designer with vision. A graduate of the Pakistan School of Fashion Design, Maria launched her label 'Maria B' in Lahore.
Memoona Manan
Memoona Mannan, the fashion house from Pakistan is very well-known for Memoona's exquisitely embroidered ethnic bridal attire.
Monia Farooqi
Aspiring artist turned fashion designer, Monia Farooqui has a whole new take on what to wear after hours… Just in time for the wedding season.
Munib Nawaz
Munib Nawaz is a progressive idealizer, one who tickles the thin line between the ideological dream and confined reality.
Musarrat Bushra
Musarrat Bushra started her professional career only one and half year back, and within this little duration she manages a number of clients in the Pakistan.
Muse
The philosophy behind the Fashion brand Muse is to make clothes with modern lines using comfortable fabrics.
Nabeel and Aqeel
Five years after Wardrobe and following the triumphant opening of a Nabeel and Aqeel boutique in New York, the designer brothers Nabeel and Aqeel launched their new outlet in Lahore.
Naushin Haq
In the fashion industry of Pakistan Naushin struggles to manage herself as a niche designer. Her impeccable flair for designing led her to the conceptualisation of bridal.
Nayna – by Saman Arif
Nayna is a privately owned company that designs, manufactures, and markets traditional Eastern fashion for the contemporary woman.
Nickie Nina
"Nickie and Nina are two sisters with an indisputable flair for fashion. The two designers together form an impressive team behind based house of Eastern haute couture" Khaleej Times, U,A,E (leading Middle East broadsheet)
Nida Azwer
Nida Azwer has been designing and working in fashion under the aegis of her eponymous label since 2005,
Nilofar Shahid
Nilofer Shahid, director of the fashion house Meeras, comes from a family of warriors, poets, writers and painters.
Nomi Ansari
In Pakistan, Nomi Ansari is a name that needs no introduction. Fairly new to the world of fashion, he is a graduate from Pakistan School of Fashion Designing (Class of 2001).
Nayna Online
The creative head behind Nayna, Saman Arif, gives utmost priority to the combination of aesthetics with practicality. Her philosophy is executed in Nayna's product line that reflects the interrelation between top notch quality and artistic designs.
Reet
The word Reet means tradition. Although tradition may not seem to be a priority for the boutique that gave us denim shalwars and a line of day.
Rizwan Baeyg
Rizwan Baeyg has been described in many flattering (and sometimes not so) terms. Rizwan Beyg is mindful of all influences in his life and fairly sensitive.
Saadia Mirza
Saadia Mirza's VIRTUES, the label, is boldly quixotic. Unique in its creations, the outfits are like costumes, defining individual women with a raw power of fascination.
Sahar Atif
Sahar Atif is a hardworking lady with the passion to do something extra-ordinary.
Salman Malik
Conceived the idea for Aangan after seeing the derelict state of the traditional weaving industry in Punjab. Aangan's 'eco-friendly' cotton and khaddar outfits bear.
Samar Mehdi
Samar Mehdi's creations are an intelligent hybridisation of Asian elegance and Western decadence; of the traditional and modern.
Sanam Agha
Fashion designer Sanam Agha is a female Fashion designer with the men's designing sense.
Sarah Salman
Fashion brand Sarah Salman is stunningly adding a new variety in the Pakistani Fashion industry by making gorgeous bridal wear, elegant formal wear and trendy ready to wear.
Sara Taseer Shoeab
Sara Taseer Shoeab wants to shine as jewelry designer, on the face of the Fashion industry; this also gives her positive energy.
Shaiyanne Malik
Fashion designer Shaiyanne Malik is successfully running her own Fashion house and label, named SamanZar.
Sobia Nazir
Sobia Nazir is young, enthusiastic, stylish and effervescent designer whose focus is to bring out her client's best features by giving them best.
Taufiq Hussain
Taufiq Hussain, or the "Dream Merchant" as some choose to call him, has maintained accolades of consistency during his 14-year-old career.
Tazeen Hasan
"I design my cuts with people from real society in mind and not just models." says Tazeen Hasan, Contemporary Pakistani Designer.
Umer Sayeed
His specialty has always been brightly coloured bridal and formal wear with a touch of magical vividness. Even his taste in real life is heavily influenced by vibrant colours.
YBQ
Fashion designer YBQ has a prominent place in the Pakistani Fashion Industry both as a designer and a proficient photographer.
Zain Mustafa
Zain Mustafa's philosophy of Design is different, definitive and daring. He steering away from the ornate adornment that local