Patiala Salwar Suits Exposure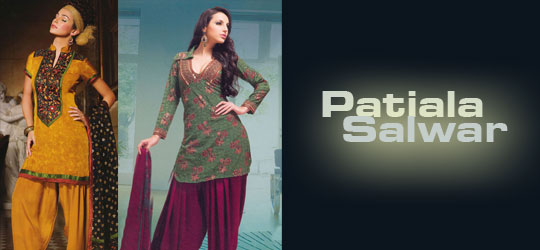 This interesting article is about exposure of patiala salwar suits. If you are interested to know about salwar kameez and its different types, please visit to my older post i.e superb salwar kameez.
Patiala salwar is designer technique and art that gives new, modern and fresh look to the custom and traditional salwar kameez. Interesting fact about this design is that "Patiala" name has been taken from the popular city of Punjab in India. If you want to have a comprehensive style in patial salwar suits, you must visit to the "Darjiya Wali gali".
Birth of Patiala Salwar Kameez

"Patiala Shahi" which is the orignal name of this salwar suiting and it's name is self-explanatory that it belongs to the royal heritage. Royal families always enjoy every field of life at their best as they have no worry about their financial infrastructure. Patiala salwar is also an example of royal taste as it requires approximately two times more cloth i.e 4.5 meter as compared to normal salwar i.e 2.5 meter.
Patiala salwar cutting, pattern and stitching
Patiala salwar cutting and pattern is also different from traditional punjabi suit. While a regular salwar is cut after the cloth length is folded into half, the Patiala salwar is cut after spreading open the whole 'arz' or 'panna' of the fabric. This is the reason of more usage of cloth i.e approximately doubled.
Layer formation is the basic theme during the stitching of patial salwar. It is folded into layers to make many pleats that gather at the waistline and drape below gracefully, giving the beautiful appearance of the famous patiala salwar. The traditional suits have printed salwar with phulkari dupatta  in satin or silk, and plain, simple, fitted and short kameez having length till above knees. Patiala suits in rich fabrics that drape well like a silk salwar kameez gives it a true glamor.
Usage of other fabrics like cotton, georgette, crepe are also famous and trendy to make patiala salwar kameez.
Traditional patiala salwar designs evolution
Accumulation of numerous folds around the waist and enormous ghera or circumference make the patiala salwar very heavy. Lesser circumference at the waistline is an interesting evolution to the design of patiala salwar. But folds are still in higher number as compared to normal salwar. Master Santokh Singh is an innovator or creator of this modern patiala shahi salwar. He introduced the 'belt' at the top of the salwar. Weight of patiala salwar has also reduced due to this evolution.
Popularity of patiala salwar has increased due to this change and it is also a good news of budget conscious people like me ;). You can visit photo gallery of different patial salwar kameez suits designs.  I am waiting for your valuable comments.