Navigating The World Of Custom Eyelash Extensions
Facial appearance speaks volumes of one's personality. Each feature tells a story that when combined reflects the individual's thoughts, emotions, and facial appearance. When it comes to expressing these factors, the eyelash scores an excellent point. However, not every natural eyelash brings out specific traits or features required, which calls for augmentation to appear and feel the best.
Custom eyelash extensions are the right accessory for aesthetic enhancement. For example, ladies who want the doe-eyed effect can apply these extensions to their natural eyelashes, under the strict guidance of an aesthetician. This guide focuses on what a cosmetic patient should know before getting a custom eyelash extension.
Introducing Eyelash Extensions
Eyelash extensions are synthetic materials that are designed to look like real lashes to create a more attractive appearance. They are available in a variety of lengths, curls, types, thicknesses, and styles that are unique to individual cosmetic patients. An aesthetician attaches the synthetic product to the base of the natural eyelash using transparent surgical-grade glue.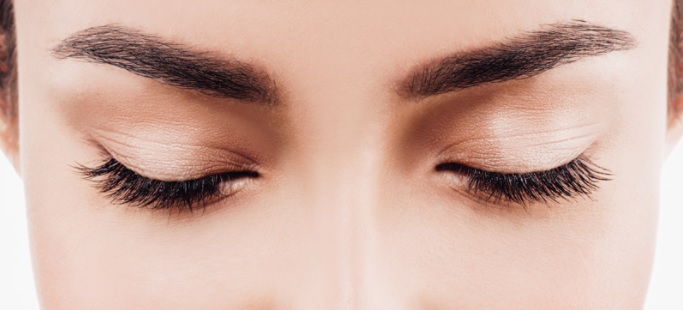 Although eyelash extensions are synthetic, they almost look and feel natural, especially when purchased from top-quality brands. They have delicate textures and are lightweight. When worn, they feel just like natural lashes on the skin.
Features of Eyelash Extensions
As previously highlighted, eyelash extensions comprise the following: thickness, type, style, curl, and length.
Thickness
Eyelash extensions come in different diameters, with the thickest being .20 mm. Most people find this thickness type too heavy for their natural lashes. It can easily come off or affect the natural lashes. Classic eyelash extension wearers consider the .15 mm lashes their go-to option as they provide the right thickness — not too thick, not too thin.
The .10 mm lashes are light, making it possible for a cosmetic patient to place two synthetic lashes on one natural lash, without weighing down on the entire eyelash structure. The finest of them all is the .5 mm lash. Five synthetic lashes can fit comfortably on one natural lash. Others include .6 mm and .7 mm lashes.
Type
Eyelash extensions come in four different types: 2D, volume, hybrid, and classic. 2D extensions sit in between Classic and Volume. Aestheticians can use two lashes to form one Classic lash. Volume has the fullest set, in which three to five lashes are attached to the natural lash to create a fluffy look. Hybrid, as the name implies, is a combination of volume (50%) and classic (50%). Its defined frame shares attribute with the Classics, while its fulness is closely linked to Volume. It comprises one synthetic lash that covers its natural counterpart.
Style
Cosmetic patients have three unique options: dramatic, doll-eye, and cat-eye. Dramatic eye style swiftly transitions from short to long and maintains the length throughout. The bulk of the length of the doll eye rests in the centre, making the eye look more open. It narrows towards the interior and outer corners. Cat-eye progressively transitions from long to short, with the longest at the end, resulting in an almond-shaped eye.
Curl
Eyelash extension curls include J curl, L curl, B curl, C curl, and D curl. Each curl represents the selected letters in shape. J curl is so inconspicuous that most people don't notice it in public. B curl doesn't fare any better even though it features. C curl is most ladies choice. D and L curls are dramatic.
Eyelash Extension Benefits
Wearing an eyelash extension eliminates the need for mascara. The reason for this is that the extensions provide a full-form impression. They have the appearance of being lengthy, thick, and black. There isn't much to do to keep these items in good condition. Additionally, due to the bold look they provide, wearers look more alive. Women with sparse to no eyelashes can rock these accessories.
Understanding the Application Process
Cosmetic patients can select a combination of style, thickness, type, and curl, which, in turn, determines the application duration. Ideally, the painless process takes 90 minutes to three hours.
Duration of Results
Eyelash extensions can be worn for up to five weeks. However, this is dependent on the natural eye's life cycle, which is comparable to that of hair. They develop, fall, and renew themselves. The unique eyelash extension will thin out after three to four weeks and will need to be filled.
Taking Care of the Custom Eyelash Extension
Similar to other accessories, custom eyelash extensions would need maintenance to extend durability, while producing stunning results.
Having applied the extensions, use cleansers and oil-free makeup removers to keep them clean. Use a soft cloth or Q-tip gently around the area. Comb them for proper alignment.
Don't allow the extension to come in contact with moisture within the first 24 hours of application. Avoid workout or swimming within the next 48 hours.
Wrong sleeping positions may cause the extensions to come off or bend. Sleeping on one's back will prevent such an occurrence. Also, avoid rubbing the eyes aggressively.
Women who would wear makeup should limit the application to other areas, without affecting the custom eyelash extensions. Avoid using waterproof mascara or makeup that contains oils or wax. These products can loosen the bond that holds the extension, causing them to fall off quickly.
Professional maintenance for the extensions is one technique to lengthen their life. Professional removal is also recommended. Yanking them off might cause damage to the natural lashes, so avoid this approach.
Conclusion
Eyelash extensions provide the quickest solution to achieve enhanced appearance. These accessories bring out the best in eyelashes, thanks to the unique materials used in their production.They appear natural and provide that extra boost to the facial appearance that will make one's personality come across in a more pleasing way. Custom eyelash extensions create an illusion of longer lashes. They are the right choice for every woman who wants to appear more attractive. These extensions can be worn for several weeks before being filled or changed with the same or different styles, colours, and thicknesses. They will last longer if cleaned correctly and not damaged.