New Year, New Complexion – Discover the Benefits of Facial Oils
If your skin is a looking a little worse for wear after the Christmas festivities adding an aromatherapy facial oil to your skincare routine could be just what you need.
Although Christmas is fun the endless round of socialising, late nights and over-indulging in rich foods and alcohol can take its toll on our health and wellbeing, and as your body's largest organ, the skin is one of the first places to show the effects. A dull, dry, dehydrated complexion, redness, flaky patches and breakouts are all signs that your skin has a Christmas 'hangover' and is in need of some tender loving care! Read on to learn about more about facial oils and how they can revitalise your skin for the new year ahead.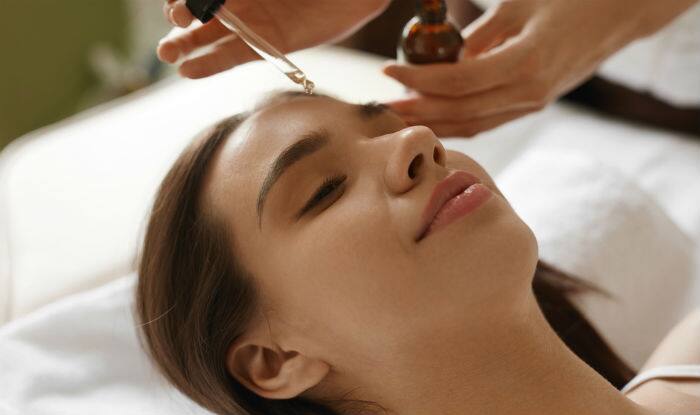 The benefits of aromatherapy facial oils
Aromatherapy facial oils are one of the best ways of balancing your skin's natural moisture levels and promote a healthy glow. Although some people think that oil can make the skin greasy or clog the pores, they are actually really effective in regulating the skin's natural oil (sebum) whilst nourishing, strengthening and protecting the skin against environmental damage.
Natural plant oils are similar in composition to your own skin and therefore highly skin-compatible and readily absorbed – working with your skin and not against it. They are rich in essential fatty acids and fat-soluble antioxidants and vitamins that are essential for maintaining healthy and younger looking skin.
Essential fatty acids such as linoleic acid (Omega 6), Alpha-linoleic acid (Omega 3) and oleic acid (Omega 9) act as building blocks in the skin's cells, helping to strengthen and smooth the skin, improve moisture and elasticity, soothe irritation and reduce signs of ageing.
Antioxidants such as Vitamin C and E also help prevent premature ageing by fighting free radical damage.
Can I use a facial oil if I have oily skin?
Facial oils are beneficial for all skin types including oily and blemished skin, as long as you choose the correct oils.
Using an oil on oily skin can help to reduce/re-balance the skin's natural oil production. The tendency with oily skin is to use harsh products that strip the skin of sebum – this can be counterproductive as it encourages the skin to produce more oil to replace what has been lost. When using a natural, skin-compatible oil, the skin believes it has enough moisture and therefore sebum production slows down. Some oils even help to dissolve sebum which can help unclog the pores and reduce blackheads and breakouts.
Choosing the right facial oils
It's best to choose products that contain natural plant oils as opposed to mineral oil. Natural oils contain a wealth of nutrients that feed and nurture the skin. Mineral oil (produced from petroleum) contains none of these important ingredients and merely acts as an occlusive to prevent moisture loss. Many facial oils will also contain essential oils that bring additional benefits to the skin.
Some of the most popular oils are:
Jojoba – is light-weight and easily absorbed and very similar in composition to sebum. It's helpful for oily and blemished skin as it can help to regulate oil production and unblock the pores. Grapeseed, Hazelnut and Safflower are also recommended for oily and blemished skin types.
Rosehip Seed oil – is excellent for dry, ageing skin or scarred skin. It contains high levels of essential fatty acids and trans-retinoic acid, a natural form of Vitamin A, that promotes skin cell renewal. It is also considered a 'dry' oil as it readily absorbed into the skin.
Borage Seed (Starflower) oil – is the richest known source of Gamma-linoleic acid (Omega 6). particularly good for mature, sensitive, damaged or hormonally influenced skin.
Evening Primrose oil – also high in Gamma-linoleic acid and excellent for skin that is showing signs of ageing, or skin that is dry, damaged, scarred or inflamed.
Raspberry Seed oil – is high in Omega 3 and Omega 6 as well as Vitamins A and E. It is a very dry, thin oil that is deeply nourishing and conditioning for the skin, and particularly suited to sensitive skin.
Essential oil such as Chamomile, Frankincense, Geranium, Jasmine, Lavender, Neroli, Rose and Ylang Ylang are also popular additions to aromatherapy facial oil blends and each have their own unique properties and benefits.
How to use a facial oil
Facial oils are highly concentrated, so you only need to use a few drops at a time. It's best to massage in a few drops after cleansing, toning and moisturising, as the oil will help to seal in your moisturiser. If you have dry skin apply morning and night. If your skin is oily you may only need to apply in the evening.
Facial oils can also be a great base for your foundation resulting in a smoother, more even finish. You can even add a drop into your foundation to give your makeup an extra natural glow.
For a re-hydrating, nourishing face mask, cleanse and exfoliate your skin and run a warm bath. Apply a thin film of oil to your face and enjoy a relaxing soak in the bath. The warmth of the bath water will help the oil to penetrate deep into your skin. Leave for approximately 20 minutes then wipe off any excess oil with a warm flannel. Splash your face with cold water and pat dry.