A Comprehensive Guide to Choosing the Perfect Bridesmaid Dress
The wedding day is the crowning moment of a bride's life, and all brides want everything to look perfect. Choosing the perfect bridesmaid dresses can be extremely tricky. Even women who don't put much thought into their everyday clothes are overwhelmed by the thought of picking out gowns for the bridesmaids.
Envision how you want your squad to look in the pictures later on. Also, consider other aspects like the setting, venue and the overall theme of your wedding for Choosing the right Bridesmaid Dress.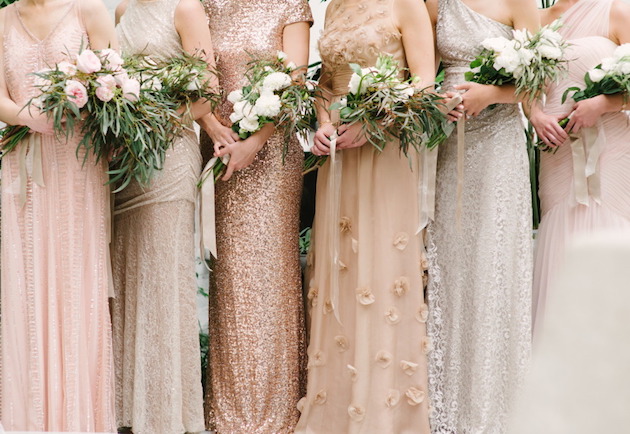 New Styles
Blush bridesmaid dresses and other unconventional-toned dresses are trendy at the moment. When dyed in this color, the satin fabric looks like silk–smooth and soft to touch. This material has an elegant look which means that your entourage will look stylish in these outfits.
Lace Dresses
The lace overlay is another modern feature that puts a romantic spin on any party dress. You can find many attractive designs where florals or other intricate patterns intertwine to create something truly unique and stunningly beautiful.
Both lace details and floral patterns are trendy right now among wedding planners, so it would be easy for you to choose the perfect combination for your lovely ladies' appearances on the big day.
Theme-Based Dresses
Another excellent idea for choosing the right bridesmaid dress is to match the dress with the wedding theme–classy and sophisticated or light and airy.
The Mermaid Style
Mermaid bridesmaid dresses are another elegant trend that has been around for a while now. This silhouette elongates the women's body and makes her look like a real fashionista. Also, consider some variations, such as shorter skirts or different necklines.
Classic yet Chic
It all depends on the bride's and the bridesmaids' tastes and preferences. Still, if she wants something classic yet chic, then an empire waist can be ideal. It creates a flattering silhouette that emphasizes the bustline and narrows down the waist. The halter neckline looks amazing with full-length gowns because it perfectly frames the women's faces and shoulders.
Cocktail Dresses
Cocktail dresses are also popular. This style hides all the trouble areas and creates a lovely hourglass effect because of its body-hugging fit.
Ruched bodices are very flattering, so they streamline your waist and add curves to the bridesmaid's figure without making her look too curvy.
Although not everyone can afford designer bridesmaid dresses, there are plenty of affordable options on the market that still provide excellent results while staying within your budget.
Sheath Dresses
Sheath dresses tend to accentuate the smallest part of a woman's frame and make her look even slimmer than she is. You can experiment with the sheath dress look by trying dresses with some ruffles or other details that add floweriness to the dress.
Sheath gowns also work well for tall women who want to appear more slender and elongated. Bodice-hugging outfits always look classy on any occasion since they streamline the silhouette and show off the curves.
Ball Gowns
Ball gowns are more of a wedding dress style than a bridesmaid dress style. However, these gowns are ideal if you opt for classic style and want your girls to look like movie stars or something of the sort on your special day.
They have a very romantic feel because they have some added fabric at the bottom. The fabric adds some extra volume and will make your crew look like they are right out of a fairytale. Also, this dress is perfect for curvy women.
Dresses with Short Hemlines
These dresses can work on anybody. Plus, your bridesmaids can use them for other events and parties after your wedding. The dresses have ruffles or pleats below the knees, making them less stiff than traditional sheath outfits while maintaining a figure-flattering effect.
Don't Forget the Neckline
As far as necklines go, you can choose from one-shoulder styles, pretty halter dresses, sweetheart necklines, and V-neck ensembles, among many other options. Strapless bridesmaid's dresses are an excellent way to add glamour, style, and sophistication to your wedding.
If you are going for the modest yet fabulous look, consider halter necklines or strapless shoulder styles. These options are perfect for all women and are simple to design and create. Additionally, they are versatile and elegant.
Final Thoughts
Before getting into more complicated details about designing ideas, it is essential to know about dresses'. This knowledge will help you understand how your squad will look like on your perfect day.
As mentioned above, A-line dresses are trendy because they create a flattering effect and flatter all body types. Empire waist is another universally flattering option, so you can focus on this style if you want something versatile and easy.