7 DIY Facemasks for Glowing Skin
Who doesn't want a glowing, flawless-looking youthful skin? Everyone dreams of having one right! Fret not because today we're going to discuss some amazing tips and tricks that will help you in achieving the perfectly radiant skin.
Let's take a look at some of those easy yet effective facemasks that you can effortlessly make on your own. Moreover, these masks won't only hydrate your skin but will also improve the appearance of your pores and remove excess oil.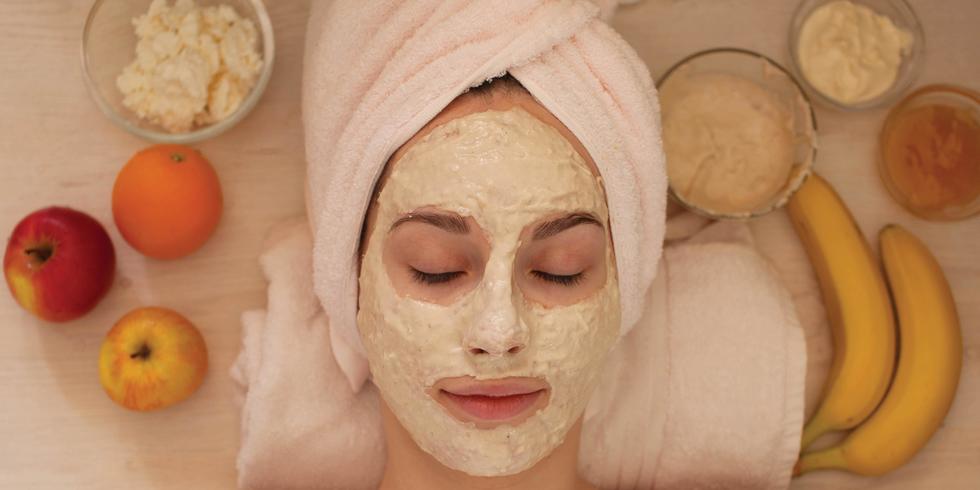 DIY Face Masks for Glowing Skin
For your convenience, we have jot down some very easy to make face mask recipes that you can easily make yourself.
Avocado Mask
Avocados are a superfood that can do wonders for your skin. With the plethora of vitamins and minerals present in it, it can give your skin the boost its missing.
Things You Will Need
One full tablespoon of lemon juice.
Instructions:
Simply peel the avocado and mash it properly until there are no chunks lift.
Now, add the egg whites and lemon juice in the mashed avocados and mix well.
Apply as a tinny layer on your face and let it sit on your face for 30 mins.
Wash your face with fresh water and enjoy the instant glow that you will get after applying this mask.
Strawberry Face Mask
Strawberries are an outstanding source of vitamin C and alpha-hydroxy acids. Consequently, they will help in exfoliating the dead skin from your face. Additionally, vitamin C helps in skin tightening.
Ingredients:
10-12 fresh strawberries.
Raw honey three tablespoons.
One tablespoon of olive oil mayonnaise.
Few drops of essential lavender oil.
Preparation Procedure:
Mash the strawberries to a fine pulp.
Add all ingredients in the strawberry pulp and mix well.
Evenly apply on your face avoiding the eye area and leave it on your face for at least 20 minutes.
Wash with plenty of water.
Honey Mask for Scars
This face mask is particularly helpful if you have scars or dark spots on your face. However, if you want to enhance its effectiveness, add few strands of white Thai kratom; it's soothing properties will rejuvenate your skin.
Things you need
Two teaspoons of raw honey.
Directions:
In a small bowl, combine lemon juice and honey.
Apply the mixture to your cleansed face in the form of a thin film.
Let it sit for 25 to 30 minutes.
Almond Oil & Aloe Vera Mask for Dry Skin
This face mask is perfect for treating your dry and flaky skin. Because of the hydrating properties of aloe vera, your skin will regain its lost moisture.
Ingredients:
Application Steps:
Take a small mixing bowl, and mash a banana in it.
After mashing the banana, add two tablespoons of aloe vera gel and mix them well.
After mixing, add three teaspoons of almond oil and mix thoroughly.
Put on your skin and leave it for 15 to 20 mins and rinse well with water.
Face Mask for Skin Bumps
If you are suffering from a bumpy or uneven skin due to a skin problem such as eczema, we have the perfect mask for you. Utilizing the healing and soothing properties of the wonder herb kratom, we have made the perfect facemask. By adjusting the correct red Bali kratom dosage with aloe vera extract, you can get rid off of the uneven bumps from your face.
Things you will need
Kratom extract, powder, or matcha whichever you can find easily
Any essential oil of your choice
Steps:
Simply mix the kratom powder, extract or matcha in a bowl with aloe vera gel and make an even paste.
After properly mixing kratom in the aloe vera gel, add few drops of essential oil.
Apply on a clean face in the form of a thin layer and let it sit for 25 to 30 minutes.
After about half hour, rinse your face with fresh water and enjoy smooth and even skin.
For the finest results, use two to three times, and your scars will vanish.
Coffee and Turmeric Face Mask
If you are searching for a face mask to reduce the puffiness and inflammation of your face, this mask is for you. The caffeine in the mask will reduce puffiness and swelling of your skin. At the same time, the turmeric will enhance the outlook and radiance of your skin.
Stuff you'll need
One tablespoon instant or ground coffee.
One tablespoon of Greek yogurt.
Instructions
Take a mixing bowl and blend all the ingredients.
Apply it properly all over your face, including the area under the eye.
Leave it on for about twenty minutes.
After the mask dries, remove it with the help of a warm and damp towel.
Banana Face Mask
Banana is really beneficial for your skin. They will give your skin the missing nourishment that they need. Bananas can moisturize your skin, treat acne marks, and control oil on your skin.
Ingredients:
Tablespoon ofc thick yogurt.
Procedure:
Peel the banana and pulp it in a bowl.
Mix the other ingredients in it and apply it in your face.
Leave it on for 20-30 minutes.
Afterward, gently massage the mask into your skin for a few minutes and rinse with fresh water.