History Of Mexican Tattoo Designs
Tattoos are not only adopted by people as a fashion statement, but they also portray their character and persona. Mexican tattoos are symbolic. Such tattoos are inspired by Mexican civilization and culture. The designs are similar to tribal tattoos, marking the difference between tribes and depicting an individual's social status. The themes are mainly inspired by Mayan, Aztec, Inca and Hispanic culture, playing a key role to make Mexican tattoo art so popular.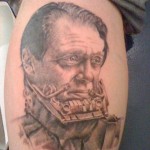 History of Mexican Tattoo
Contrary to common belief, Mexican tattoos began long before the stereotypical ideas about them – the idea that Mexicans have only been tattooing for a hundred years or so is a misconception. Tattoos in the Mexican culture date back to the early 1300s and perhaps before that. Both the Aztecs and the Mexica, along with other Mexican native tribes used tattoos as ornamental and as a way to intimidate foes during battle.
Mexican Eagle Tattoo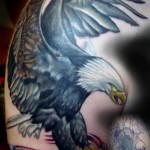 The Mexican eagle is familiar to anyone who has seen the Mexican flag. What makes this eagle special however is the fact that it has a snake in its mouth and is perched on a cactus plant. Apart from looking visually appealing, a tattoo featuring the Mexican eagle will serve as a symbol not only of national pride but also tell a story of the history of Mexico's Aztec ancestors.
Mexican Religious Symbol Tattoos
Mexicans are deeply religious people who seem to have particular affinity to the Blessed Virgin Mary. A particularly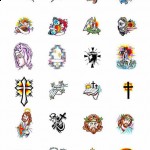 popular Mexican tattoo that serves as a strong symbol of faith for people is known as the image of the Virgin of Guadalupe. This tattoo includes a picture of the virgin Mary looking down with a somber look on her face while her hands are clasped together in prayer. In this image she is standing on a crescent moon which is in turn supported by an angel. Surrounding the body of the virgin Mary are rays of light, similar to a halo except the light is emanating from her entire body rather than simply her head.
The history behind this particular image is specific to Mexico and Mexican history which is why in addition to serving as a religious symbol tattoo it is also an identifier as an especially Mexican tattoo. The story goes back several centuries to when the virgin Mary revealed herself to a local man in a vision telling him to build a church. The man was also instructed to go pick up some roses that had miraculously grown on a frost covered hillside. The man used his poncho to collect the roses and proceeded to go to the local priest to convince him that his vision was real. Upon emptying the contents of his poncho it was realized that the real miracle was not only in the growing of roses during winter but that they had left an image; the image of the Virgin of Guadalupe, on the Man's poncho.
Mexican Tattoo Designs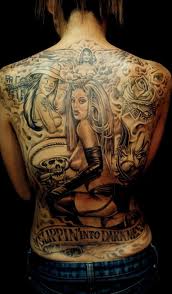 From among the typical Mexican tattoo ideas mentioned above, Aztec tattoos are the most prominent. The tattoos engraved on the body are of the sacred Gods and Goddesses of the Aztec tribe. To name a few, Quetzalcoatl (god of fertility, creativity and weather), the serpent God is the most powerful of all, is highly liked by people belonging to Mexico. A tattoo of Huitzilopochtili or the sun god (a symbol for belief in life after death), is a common design adopted by Mexicans. Tezcatlipoca (the warrior god) tattoos worn by people who are in search of power and want to live like a warrior. Other traditional symbols include religious designs with a head bowed or hands in prayer, encircled by a halo. Aztec tattoos are more rudimentary, etched in honor of Gods to bless people with fertility, prosperity and health. The ancient art of Mexican tattoo designs are incorporated with many modern elements today. People rather considering them as religious emblems and wear them to uplift their fashion quotient. With this, Mexican art tattoos have evolved as flag tattoos, mafia tattoos, gang tattoos and prison tattoos.
Mexican flag tattoo represent pride and vanity. Mexican flag has three colors, namely green, white and red, along with an eagle placed at the center. Each color has different meanings. The red color depicts sacrifice and unity, green indicates freedom and hope and white holds for purity and faith. The eagle holds a snake in it's mouth and is seen to be landing on a cactus, the logo quite distinct from that of Spanish civilization. People who wear Mexican flag tattoos actually work away from their native place and take pride and honor in the rich Mexican culture. Flag tattoos are usually worn on the broader parts of the body like, on chest, upper arm and forearm.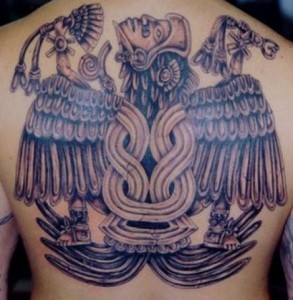 Mexican mafia tattoos stand for Mafia Mexicana, ruling the hearts of the Mexican tattoo fans. They are inked either as 'MM' or the eagle holding the snake in its mouth with the initials 'EME'. Mafia tattoos are also denoted by black hands. Mexican gang tattoos or Mexican prison tattoos vary from the mafia patterns. Such tattoos have ornate tattoo lettering. They are also known as Hispanic tattoo, that contain images denoting Christianity. They are iconic representations like Christ, a cross, saints and Virgin Mary. This way you can create striking religious symbols, that will exhibit your true faith in the ancient Mexican culture.