Red Carpet Fashion at BAFTA Television Awards 2010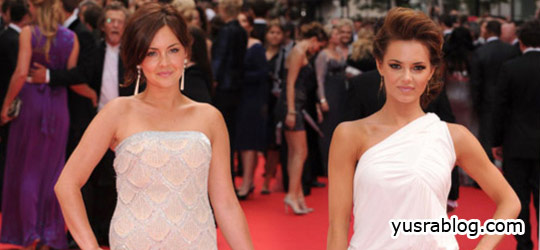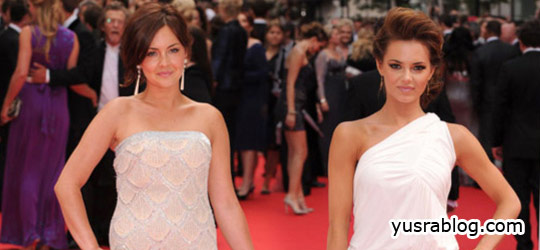 {YBA} The BAFTA Television Awards 2010 were held on Sunday June 6 among much glitz and glamour. While once the BAFTA awards celebrated film and television in the show, in recent years the film section has been moved to before the Oscars to give it more coverage. The television awards show remained in its normal slot has just been completed.
BAFTA Television Awards 2010
Here is the full winners list of the TV BAFTA Awards 2010 winners, with the winner in bold type:
Fellowship: Melvyn Bragg
Special Award: Simon Cowell
Leading Actor
Kenneth Branagh – Wallander (BBC One)
Brendan Gleeson – Into The Storm (BBC Two)
John Hurt – An Englishman in New York (ITV1)
David Oyelowo – Small Island (BBC One)
Leading Actress
Helena Bonham Carter – Enid (BBC Four)
Sophie Okonedo – Mrs Mandela (BBC Four)
Julie Walters – A Short Stay In Switzerland (BBC One)
Julie Walters – Mo (Channel 4)
Supporting Actor
Benedict Cumberbatch – Small Island (BBC One)
Tom Hollander – Gracie! (BBC Four)
Gary Lewis – Mo (Channel 4)
Matthew MacFadyen – Criminal Justice (BBC One)
Supporting Actress
Rebecca Hall – Red Riding 1974 (Channel 4)
Sophie Okonedo – Criminal Justice (BBC One)
Lauren Socha – The Unloved (Channel 4)
Imelda Staunton – Cranford (BBC One)
Entertainment Performance
Stephen Fry – QI (BBC One)
Harry Hill – Harry Hill's TV Burp (ITV1)
Anthony McPartlin & Declan Donnelly – I'm A Celebrity….Get Me Out Of Here! (ITV1)
Michael McIntyre – Michael McIntyre's Comedy Roadshow (BBC One)
Female Performance in a Comedy Role
Jo Brand – Getting On (BBC Four)
Rebecca Front – The Thick Of It (BBC Two)
Miranda Hart – Miranda (BBC Two)
Joanna Scanlan – Getting On (BBC Four)
Back to top
Male Performance in a Comedy Role
Simon Bird – The Inbetweeners (E4)
Peter Capaldi – The Thick Of It (BBC Two)
Hugh Dennis – Outnumbered Christmas Special (BBC One)
David Mitchell – Peep Show (Channel 4)
Single Drama
A Short Stay in Switzerland
Elizabeth Trubridge, Simon Curtis, Frank McGuinness, Ruth Caleb
BBC One/BBC Productions
Five Minutes of Heaven
Guy Hibbert, Oliver Hirschbiegel, Eoin O'Callaghan, Stephen Wright
BBC Two/Big Fish Films/Ruby Films
Mo
Jeff Pope, Neil McKay, Lisa Gilchrist, Philip Martin
Channel 4/ITV Studios
The Unloved
Samantha Morton, Tony Grisoni, Kate Ogborn, Andrew Eaton
Channel 4/Revolution Films
Drama Series
Being Human
Rob Pursey, Toby Whithouse, Matthew Bouch, Colin Teague
BBC Three/Touchpaper Television
Misfits
Production Team
E4/Clerkenwell Films
Spooks
Production Team
BBC One/Kudos Film & TV
The Street
Jimmy McGovern, Sita Williams, Roxy Spencer, David Blair
BBC One/ITV Studios
Drama Serial
Occupation
Peter Bowker, Derek Wax, Nick Murphy, Laurie Borg
BBC One/Kudos Film & TV
Red Riding
Production Team
Channel 4/Revolution Films
Small Island
Paula Milne, Alison Owen, Vicky Licorish, John Alexander
BBC One/Ruby Films and Television & AL Films
Unforgiven
Sally Wainwright, Nicola Schindler, Karen Lewis, David Evans
ITV1/Red Production Company
Continuing Drama
The Bill
ITV1/Talkback Thames
Casualty
BBC One/BBC Productions
Coronation Street
ITV1/ITV Studios
EastEnders
BBC One/BBC Productions
International
Family Guy
Seth Macfarlane
BBC Three/Twentieth Century Fox
Mad Men
Matthew Weiner, Scott Hornbacher
BBC Four/Lionsgate
Nurse Jackie
Evan Dunsky, Liz Brixius, Linda Wallem, Richie Jackson
BBC Two/Lionsgate, Showtime Networks, Inc., CBS Studios International
True Blood
Alan Ball, Brian Buckner
FX/HBO
Factual Series
Blood, Sweat and Takeaways
Mark Rubens, Tim Quicke, James Christie-Miller, Jo Bishop
BBC Three/Ricochet
The Family
David Clews, Beejal-Maya Patel, Jonathan Smith, Sanjay Singhal
Channel 4/Dragonfly Productions
One Born Every Minute
Production Team
Channel 4/ Dragonfly Productions
Who Do You Think You Are?
Liz Dobson, Colette Flight, Lucy Carter, Alex Graham
BBC One/Wall To Wall
Specialist Factual (given in honour of Huw Wheldon)
Art of Russia
Andrew Graham-Dixon, John Hay, Silvia Sacco, Karen McGann
BBC Four/BBC Productions
Chemistry: A Volatile History
Jim Al-Khalili, Helen Thomas, Sacha Baveystock, Kim Shillinglaw
BBC Four/BBC Productions
Inside Nature's Giants
David Dugan, Julian Thomas, Alex Tate, Yvonne Bainton
Channel 4/Windfall Films
Yellowstone
Production Team
BBC Two/BBC Productions
Single Documentary (given in honour of Robert Flaherty)
Katie: My Beautiful Face
Jessie Versluys, Dan Goldsack, Kate Collier, Samuel Santana
Channel 4/Mentorn
Louis Theroux: A Place for Paedophiles
Louis Theroux, Emma Cooper, Guy King, Nick Mirsky
BBC Two/BBC Productions
Tsunami: Caught on Camera
Tom Brisley, Janice Sutherland, Sarah Swingler, Alex Kiehl
Channel 4/Darlow Smithson Productions
Wounded
Sara Hardy, Jane Aldous, Gwyn Jones, Roger Courtiour
BBC One/BBC Productions
Features
The Choir: Unsung Town
BBC Two/Twenty Twenty Television
Heston's Feasts
Channel4/Optomen Television
James May's Toy Stories
Will Daws, Stuart Cabb, James May, Ian Holt
BBC Two/Plum Pictures
Masterchef: The Professionals
Karen Ross, Carla-Maria Lawson, Antonia Lloyd, David Ambler
BBC Two/Shine Television
Current Affairs
Afghanistan: Behind Enemy Lines (Dispatches)
Najibullah Quraishi, Jamie Doran, John Moffat, Paul Woolwich
Channel 4/Clover Films
Generation Jihad
Peter Taylor, Leo Telling, Sam Bagnall
BBC Two/BBC Current Affairs
Gypsy Child Thieves (This World)
Liviu Tipurita, Sam Bagnall, Lucy Hetherington
BBC Two/BBC Current Affairs
Terror in Mumbai (Dispatches)
Dan Reed, Eamonn Matthews
Channel 4/Quicksilver Media
News Coverage
BBC News Channel – The Haiti Earthquake
Kevin Bakhurst, Ben Brown, Matthew Price, Matt Frei
BBC News Channel/BBC News
Channel 4 News – Haiti Earthquake
Production Team
Channel 4/ITN
ITV News at Ten – Haiti
Mark Austin, Bill Neely, Dave Harman, John Irvine
ITV1/ITN
Sky News – Pakistan: Terror's Frontline
Production Team
Sky News/Sky News
Sport
F1 – The Brazilian Grand Prix
Production Team
BBC One/BBC Sport
FA Cup Final
Simon Moore, Paul McNamara, John Watts
ITV1/ITV Sport
World Athletics Championships
Production Team
BBC Two/BBC Sport
UEFA Champions League Live
Tony Pastor, John Watts, Paul McNamara
ITV1/ITV Sport
New Media
Antony Gormley's One & Other
Sari Blom, Laura Green, Steve Boland, Antony Gormley
Sky Arts/Headshift
Life Begins (One Born Every Minute)
Channel4.com/Airlock/Dragonfly
Primeval Evolved
ITV1/ITV.COM/Hoodlum/Impossible Pictures
Virtual Revolution
Dan Gluckman, Julian Philips, Dominic Crossley-Holland, Dan Biddle
BBC Two/BBC Productions
Entertainment Programme
Britain's Got Talent
ITV1/Talkback Thames
The Graham Norton Show
Graham Norton, Jon Magnusson, Graham Stuart, Steve Smith
BBC One/So Television
Harry Hill's TV Burp
Harry Hill, Spencer Millman, Peter Orton
ITV1/Avalon Television
Newswipe with Charlie Brooker
Charlie Brooker, Annabel Jones, Nick Vaughan-Smith, Al Campbell
BBC Four/Zeppotron
Comedy Programme (given in honour of Lew Grade)
The Armstrong and Miller Show
Alexander Armstrong, Ben Miller, Caroline Norris, Dominic Brigstocke
BBC One/Toff Media
The Kevin Bishop Show
Lee Hupfield, Kevin Bishop, Dominic Brigstocke, Sam Martin
Channel 4/Objective Productions
Stewart Lee's Comedy Vehicle
Stewart Lee, Tim Kirkby, Richard Webb
BBC Two/BBC Productions
That Mitchell and Webb Look
David Mitchell, Robert Webb, Ben Gosling Fuller, Gareth Edwards
BBC Two/BBC Productions
Situation Comedy
The Inbetweeners
Damon Beesley, Iain Morris, Ben Palmer, Christopher Young
E4/Bwark Productions
Miranda
Jo Sargent, Nerys Evans, Juliet May, Miranda Hart
BBC Two/BBC Productions
Peep Show
Sam Bain, Jesse Armstrong, Phil Clarke, Becky Martin
Channel 4/Objective Productions
The Thick of It
Armando Iannucci, Adam Tandy
BBC Two/BBC Productions
YouTube Audience Award
Britain's Got Talent
ITV1/Talkback Thames
Glee
E4/20th Century Fox
The Inbetweeners
E4/Bwark Productions
The One Show
BBC One/BBC Productions
Unforgiven
ITV1/Red Production Company
The X Factor
ITV1/Talkback Thames/Syco
That completes the full list of winners at the BAFTA Television Awards 2010 sponsored by Philips. The red carpet was a truly celebrity packed affair with the nominees milling about fans and press before moving inside to hopefully win Britain's version of the Emmys.
Britain's Got Talent judge Amanda Holden, picked up the show's award for best entertainment show in another sugar plum outfit, this time designed by Quintana,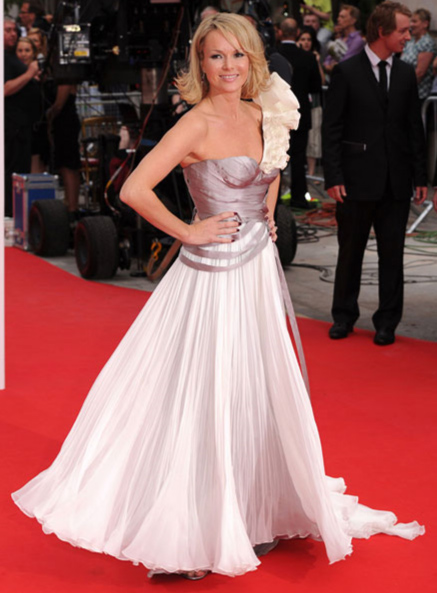 Lacey Turner, here in a dress from vintage shop "Cream", and the cast of Eastenders scooped the award for best soap, in the show's 25th year,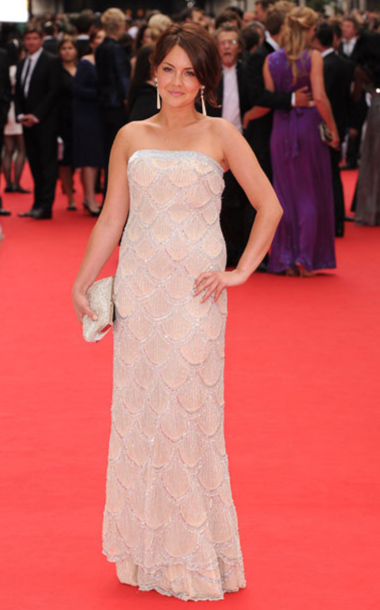 Former Eastenders star Kara Tointon looked a long way from Albert Square in this stunning floor length white Donna Karen gown,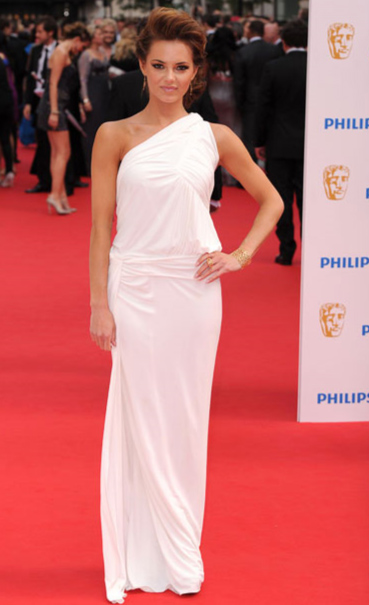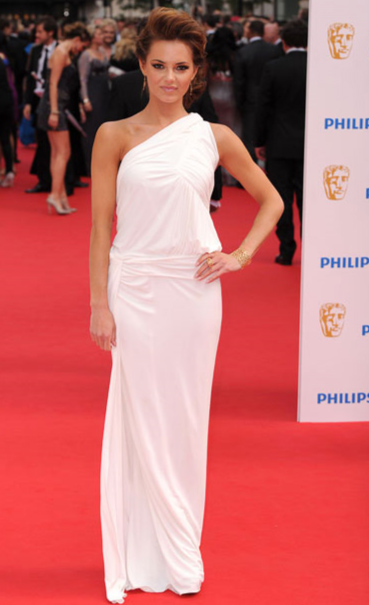 Alexander McQueen's spring/summer 2010 collection remains the go-to for evening party dresses, Lenora Crichlow shows us how to wear reptilian chic,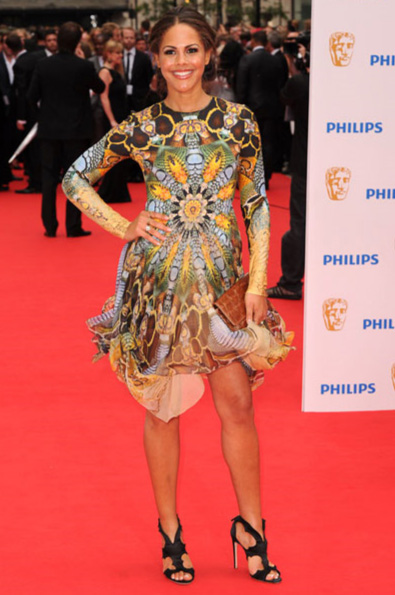 Tamsin Outhwaite showed the nude trend is going nowhere in this Maria Grachvogel jumpsuit,
Sophie Okenedo chose a British designer for the British awards, as she took to the carpet in Vivienne Westwood black silk brocade,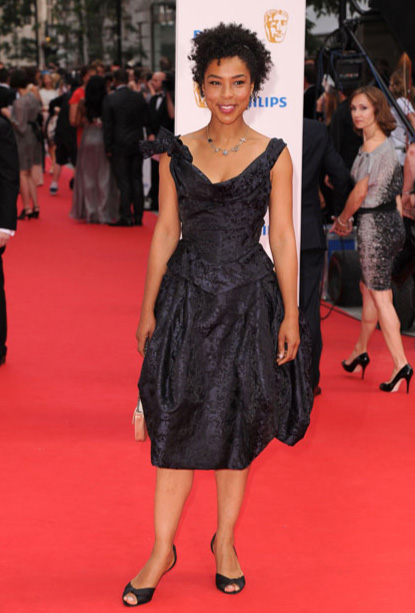 Looking wonderfully wacky as ever, Helena Bonham–Carter stepped out in an Agent Provocateur corset and a teeny top hat,